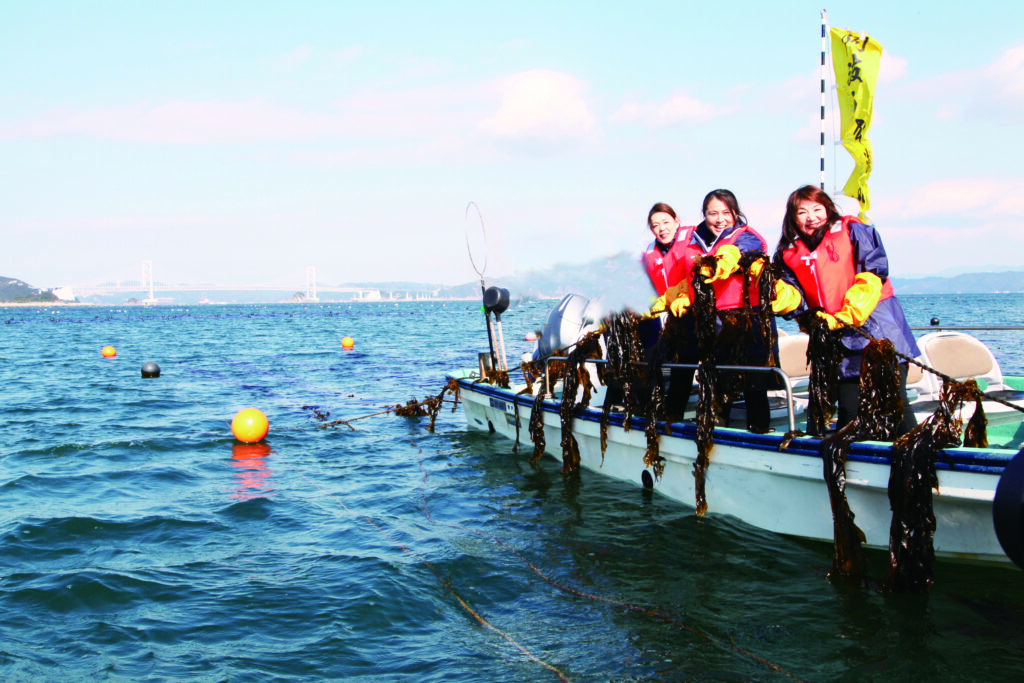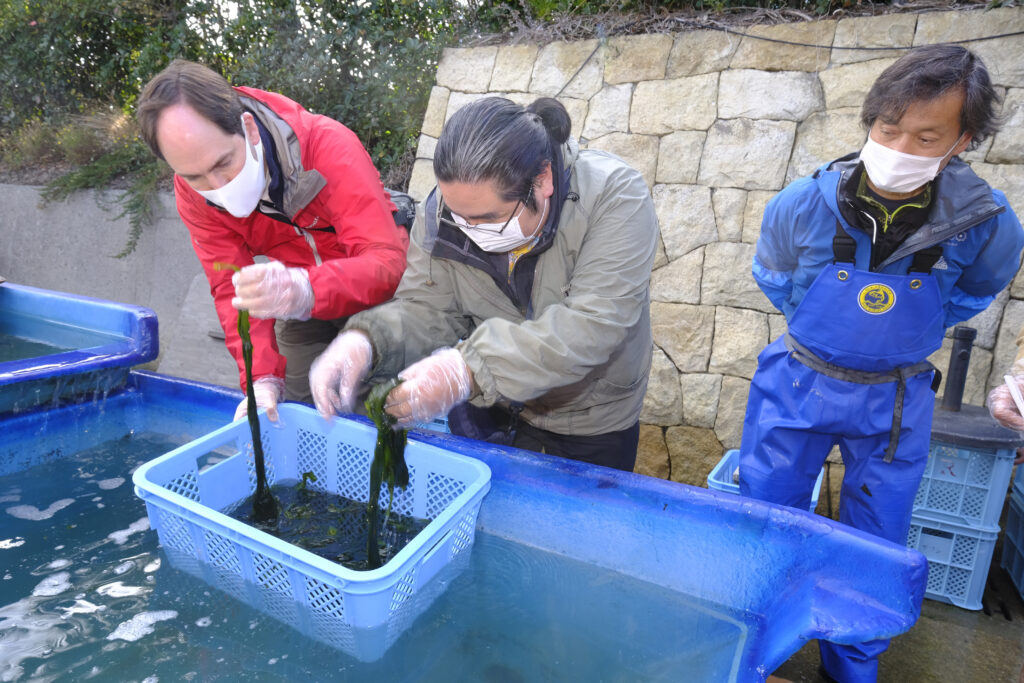 Over View
Naruto wakame seaweed is one of the specialties of Tokushima. The sight of harvested wakame between February and April reminds us of the spring season. On this tour, you will harvest some Naruto wakame and then salt it for preservation.
At first, you will go out to sea and get seaweed from the farm. Then you will work on the wakame to bring it home with you as a souvenir – rubbing the seaweed with salt made from the seawater of Naruto.
The main highlight comes after the harvesting experience – eating fresh raw wakame in the "syabu-syabu" style (putting wakame in a hot soup and boiling it lightly and quickly). You will be surprised and amazed with the instant change to the color of the wakame from brown to beautiful green when you put it in the hot pot.
Highlights
Go to the seaweed cultivating framework located offshore by boat (about 10 minutes). Try the raw wakame seaweed "shabu-shabu" style, one of the ultimate local delicacies, as you realize its outstanding freshness.
Itinerary
① 10:15 AM  Meet at AoAwo Naruto Resort
↓
➁ 10:30 – 12:00 Naruto Wakame seaweed harvesting experience: go out to sea, get wakame seaweed, salting experience for preservation, eating wakame in the "syabu-syabu" style
 ↓
③ 12:00 – 13:00  Return to the hotel and have lunch using Naruto's specialties
 ↓
④ 13:00 Finish the tour at AoAwo Naruto Resort
★ Meeting/Dismissing Place:
AoAwo Naruto Resort
Address: 16-45 Oge, Tosadomariura, Naruto-cho, Naruto city, Tokushima
Implementation Period
From February through March
Upon customer request (*Can be cancelled under bad weather conditions) 
Precautions
Please wear a mask to prevent the infection spread of COVID-19.
You cannot participate in the tour if you have a fever over 37.5 degrees Celsius on the day of the tour.
The tour may be cancelled because of weather conditions.
Please wear clothes which you don't mind getting dirty.
You will be required to wear life jackets on the boat.
Price
Per Pax: Adult 8,000 JPY
* Included: Tax, Transportation cost in the schedule, and lunch
* Excluded: Transportation cost to the meeting place (AoAwo Naruto Resort), Guide Fee
* An optional Interpretation Service (English) is available for 31,000 JPY per 3 hours
Weather Conditions
The tour depends on weather conditions
You will be notified on the evening before the day of the tour
Note
* Cancellation Policy : 30 days prior: 10% / 15 days prior: 15% / 7 days prior: 50% / 48 hours prior: 100%  
* Language : Japanese
* Minimum Number of Participants : 1 pax
* Maximum Number of Participants : 7 pax
* Requirements: Age 7 years old or older
* Advance booking on request basis (3 business days in advance)
Facility Information
Facility Name: AoAwo Naruto Resort
Website: https://www.aoawo-naruto.com/en/publics/index/
Address: 16-45 Oge, Tosadomariura, Naruto-cho, Naruto city, Tokushima
Business hours: 11:00 – 18:00
Closing days: Irregular; Open on Sat, Sun, Public holidays and Consecutive holidays
Wi-Fi(onboard): Not Available
Credit Card Payment: Available ( VISA、AMEX、MASTER、JCB ) 
Food Restriction: Request basis