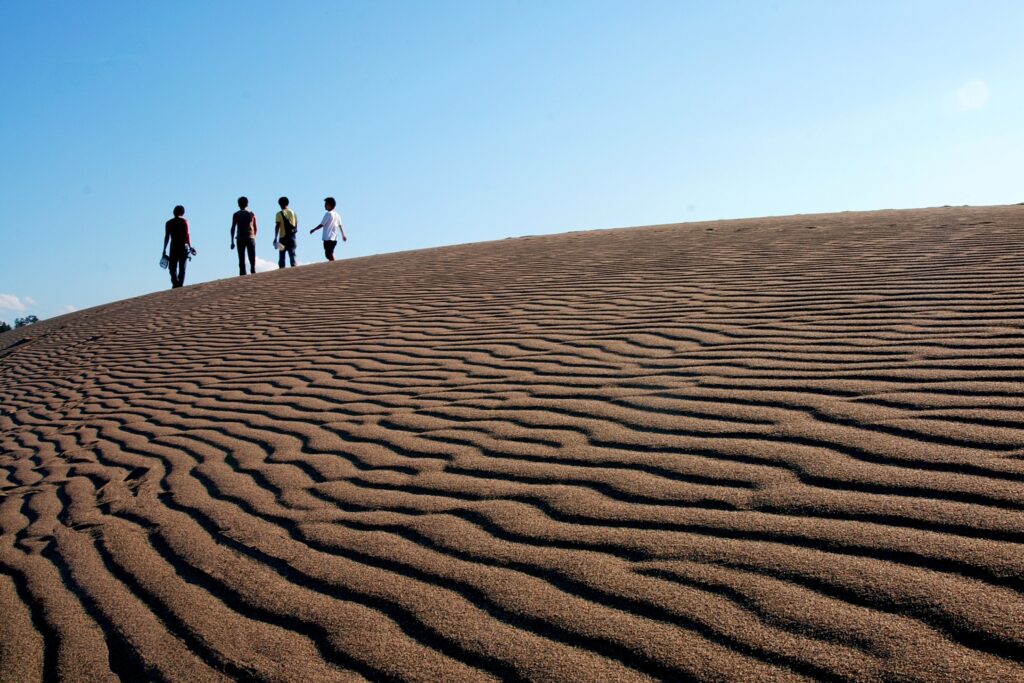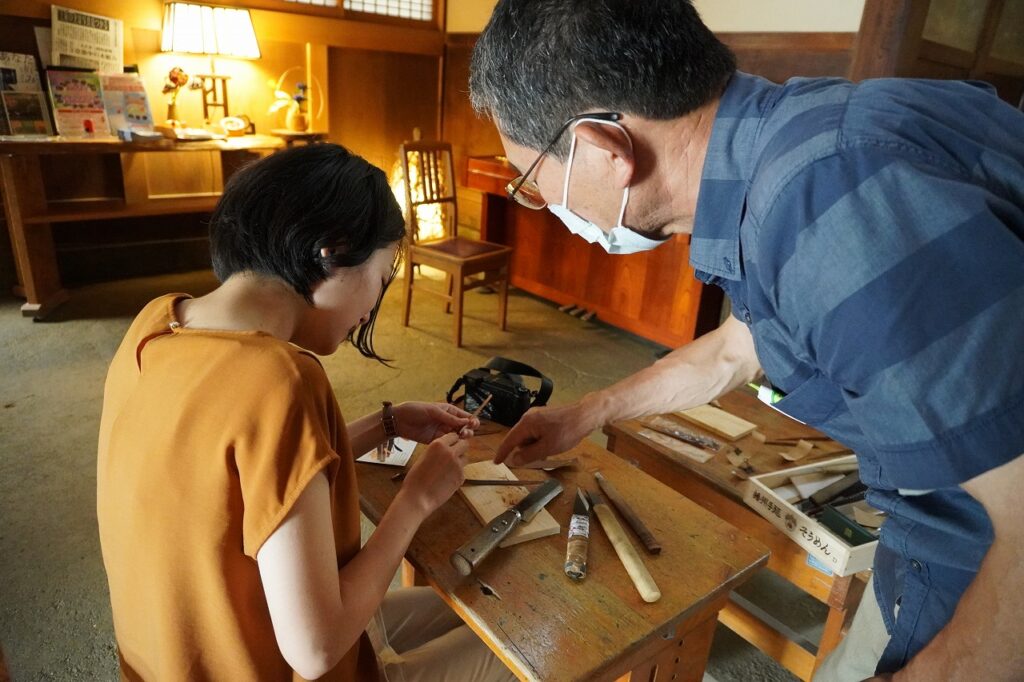 Over View
This tour provides you with the opportunity to enjoy both the sea and mountains of Tottori being accompanied by an English-speaking guide throughout the entire tour (by private taxi).
Tottori Sand Dunes are the largest sand dunes in Japan opened to tourism, located along the Sea of Japan coast in Tottori City, and selected as one of the 100 best geological features of Japan. They are formed over a span of 100,000 years.
Mitakien: appearance of half-forgotten, old-fashioned Japanese countryside. You can enjoy mountain village cuisine such as Frozen Tofu in summer, Kinoko Mushroom Yukinabe (Hot pot with grated daikon radish) in autumn amidst nature's blessings where the warmth of handmade products still remains.
The Ishitani Residence is a modern Japanese-style building designated as a national important cultural property. The Residence area is about 10,000 square meters, with over 40 rooms and 7 storehouses arranged around a vast Japanese garden with a circular pond. Arts and crafts objects belonged to Ishitani family are displayed throughout the main house. Four of the seven storehouses are open to the public and used as museums and archives.
Highlights
Enjoy the Tottori Sand Dunes, one of the largest deserts in Japan, and the world's monuments sculpture made entirely of sand exhibitions that change every year.
Have a traditional local natural food in the green forest and visit the Ishitani Residence, an important cultural property of modern Japanese architecture. Enjoy all the highlights of Tottori during safe plan by taxi.
Itinerary
① 09:00 A.M. Meet with a guide at the Hotel Monarque Tottori
 ↓
➁ 09:20 – 10:05 Visit Tottori Sand Dunes 
 ↓
③ 10:10 – 10:55 Visit The Sand Museum
 ↓
④ 11:45 – 13:15 Lunch at Mitakien (Hinoki course)
 ↓
⑤ 13:35 – 15:35 Ishitani Residence / Dessert knife making experience & Matcha tea
 ↓
⑥ 15:35 – 16:15 Visit Chizu-shuku
 ↓
⑦ 17:00 End the tour at the hotel
*Total Duration: 8 hours
★ Meeting/Dismissing Place:
Hotel Monarque Tottori
Address: 403 Eiraku Onsen-cho, Tottori City, Tottori Pref.
Precautions
It will be held even in case of rain.
Tour itinerary cannot be rearranged on-site
Implementation Period
From August to November
Price
Per pax for group of: 2 pax 61,500JPY, 3pax 46,500JPY, 4pax 43,500JPY, 5pax 38,000JPY, 6pax 34,500JPY
*Included: The Sand Museum and Ishitani Residence Entrance fee, Lunch at Mitakien, Experience fee, Medium-sized (up to 3pax)/Large-sized(from 4 pax) vehicle fee during the tour, Guide Fee, Tax, Guide Fee, Tax
*Excluded: Drink and personal expenses
Note
Cancellation Policy : 7-2 days prior: 30% / The day before the tour: 50% / The depature date: 100%
Language : English, Japanese, French
Minimum Number of Participants : 2 pax
Maximum Number of Participants : 6 pax
Requirements: Age 13 years old or older
Reservations: Advance booking on request basis (5 days in advance)
Facility Information
Facility Name: Tottori Sand Dunes
Website: https://www.tottori-guide.jp/sakyu/
Address: 2164-661 Yuyama Fukube-cho, Tottori city, Tottori pref.
Business hours: Free to explore
Closing days: Free to explore
Wi-Fi: Not available
Credit Card Payment: Not Available (Cash Only)