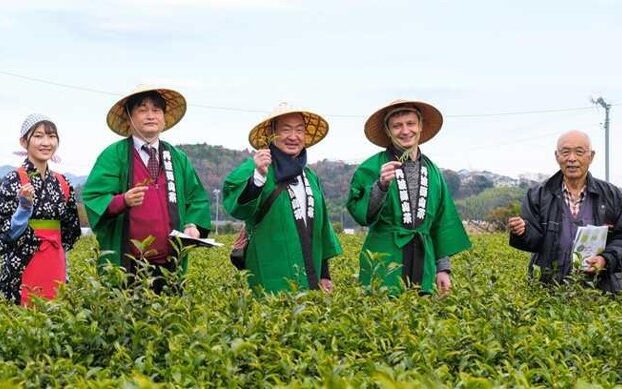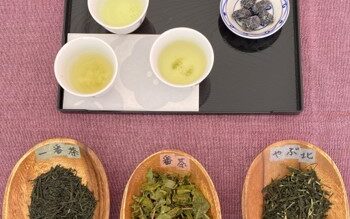 Over View
・The Ajima area of Tambasasayama City is one of the oldest tea plantations in Japan and has a history of 1,200 years of tea production. It is also sung in the Japanese Heritage Ballad "Dekansho-bushi".
・Take photos wearing a "Hap-pi", traditional Japanese garment, and have a tea girl experience.
・Tea plantation guide of local producers and tea factory tour.
・Learn how to make delicious tea and experience tea tasting with a Japanese tea instructor.
Reccomended points
・It features a location with good access to JR. (Many other tea fields are deep in the mountains.) You can enjoy the scenery while cycling through the tea plantation from the station.
・ Guided by the producers, You can enjoy interacting with the local people.
Itinerary
①Arrive at JR Sasayamaguchi Station
↓
➁Rent a bicycle and move to the tea plantation (Moving and sightseeing around the area is done freely)
↓
③12:00 or 14:30 Change into Japanese garment for Tea girl experience     
↓
④12:30 or 15:00 Photo shoot at tea plantation, producer guide, factory tour, Tea tasting experience
↓
⑤14:00 or 16:30 Tour Finish           
* Duration: 1hours 30 minutes
★ Meeting/Dismissing Place:
Sasayamaguchi station
Address: Osawa, Tamba Sasayama, Hyogo Prefecture

Implementation Period
May-Nov (except Oct).Implemented at customer's request
Min No. of participants
3 Person(s)
Max No. of Participants
Up to 20 Person(s)
Group support: possible
Participant Conditions
Under 12: Accompanied by guardian, Under 15: Consent from guardian
Tea girl Experience costume caters from 4 years old, wear mask, shoes and clothes that can get dirty in the fields.
Price
Per Pax: Adult 5,500 JPY , Children Free (under 12 years old)
* Included: experience fee, entrance fee, guide fee, souvenir
*Optional: tea picking exp. Jun, Jul & Sept only (Exp. Fee: 2,000 JPY) Tea girl Exp.(Exp. Fee: 2,500 JPY)
* Excluded: meals, drinks, personal expenses, insurance, etc.
Language Support
Japanese, English, Chinese (Interpretation request must be made at least one month in advance. +10,000 JPY)
Interpreter guide accompaniment: Not Necessary (Interpreter can be requested as an option) 
Language Supplementation tool: Available (Automatic Translator, however, is not recommended)    
Cancellation Policy
The day before the tour starts: 50%
The day of the tour prior to start time: 100% 
Weather Conditions
Departure decision due to weather→Yes
If yes: Cancellation will occur
Decision time: The afternoon the day prior
Things to Note
• If the number of people wearing the garments are 3 or more, the start time will be earlier.
Facility Information
Facility Name: Tamba Sasayama Tea Producers Association  
Address: 10-1 Ajimaoku, Tambasasayama City
Telephone: Content Inquiry Division: +81-79-506-1535            
Business hours: 09:00-17:00
Regular Holidays: None
Wifi: Unavailable
Foreign Language Pamphlet: None
Language Support: Japanese, English, Chinese (Interpretation request must be made at least one month in advance. +¥10,000)
Cultural food accommodations: Upon consultation
Facilities for disabilities: None
Credit card facilities: Cash Only