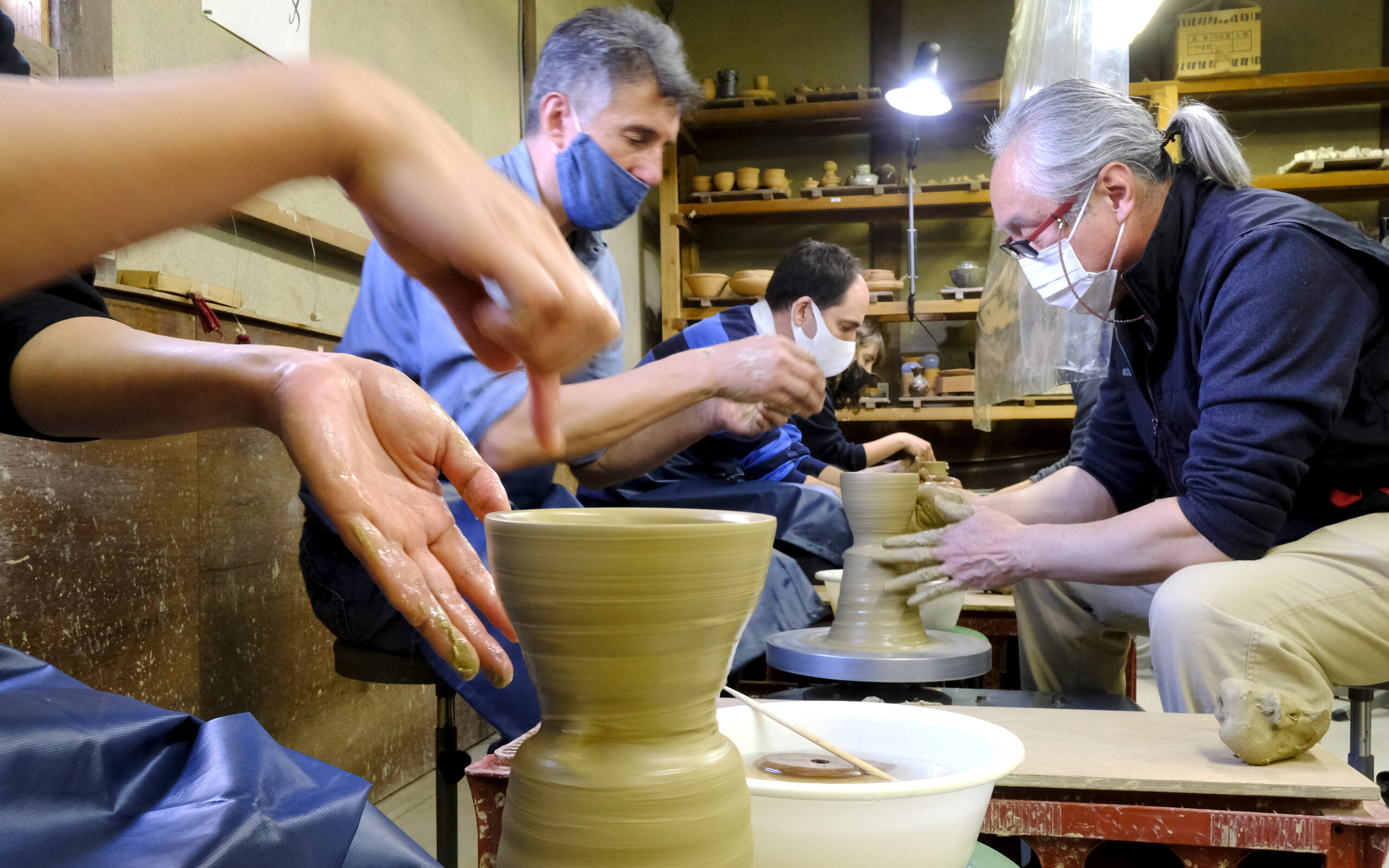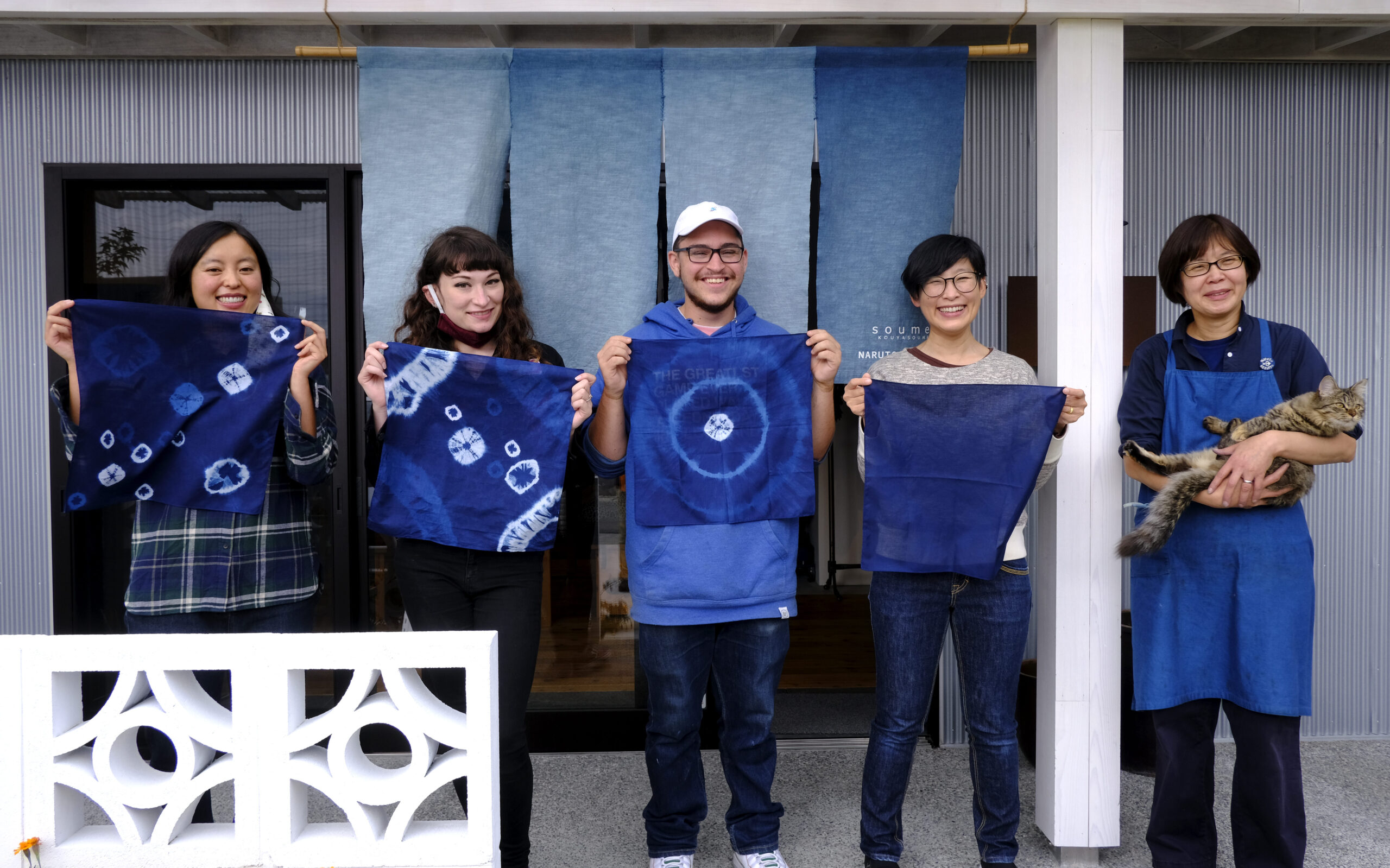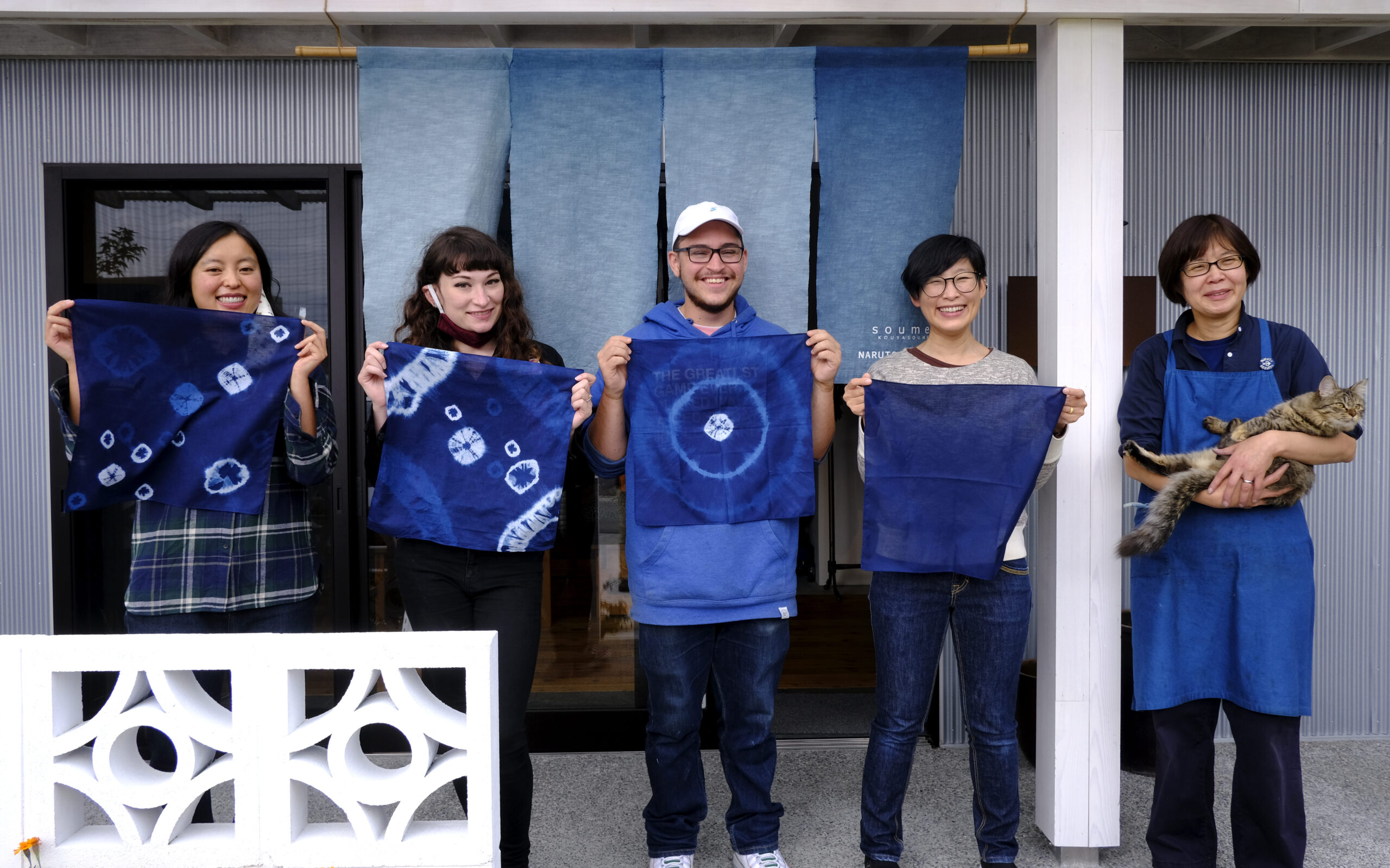 Over View
・At first, a guide explains the deep connection between indigo dyeing and Otani-yaki porcelain. You will take a look around the facility, which includes listening to the sound of suikinkutsu (a buried earthen pot that makes sound when water drips into it) at connected pottery kilns which are built on a slope and are designated as a registered tangible cultural property of Japan. After this, experience porcelain making with an electric potter's wheel (you can make a rice bowl or a teacup).
・After the lunch (mostly local ingredients from Naruto), go to "STUDIO N2," a workshop renovated from an old Japanese house. Experience indigo dyeing using the dye made from Awa-ai and natural lye (which is wood ash) and dye a handkerchief (either 54- or 45- centimeters square). *If you prefer to select an item other than a handkerchief to dye, you can do so at an additional charge. A re-useable shopping bag (32cm x 32cm x 9cm) +1,200 yen; A face mask +500 yen
After the indigo dyeing experience, walk to JR Naruto Station and finish the tour.
Highlights
Pottery beginners can enjoy making something with a careful instruction by the experts.
The item you made will be sent to the place you requested 30-40 days after the tour (an additional charge is required for the delivery).
Itinerary
① 9:30 AM  Meet at JR Naruto Station
 ↓   - Take a taxi to the destination –
➁ 9:50 – 12:15 Mori Toki: Take a look around the facility, and experience porcelain making
 ↓   - Take a taxi to the destination –
③ 12:15 – 12:50  Lunch at "O-toriien"
 ↓
④ 13:30 – 15:30  Move to STUDIO N2, Experience indigo dyeing
 ↓
⑤ 15:40  Walk to JR Naruto Station and finish the tour
★ Meeting/Dismissing Place:
JR Naruto Station
Address: 256, Maehama, Kokuwajima, Muya-cho, Naruto, Tokushima
* If you wish we can arrange a transfer to your accommodation facility (only for the facilities within Naruto city)
Implementation Period
All year round (Excluding Mondays and New Year holidays)
Precautions
Please wear a mask to prevent the infection spread of COVID-19.
You cannot participate in the tour if you have a fever over 37.5 degrees Celsius on the day of the tour.
Price
Per pax for group of: 4 pax 22,000 JPY, 3 pax 24,000 JPY, 2 pax 27,000 JPY
* Included: Tax, Experience Fee; Ceramic art (1 rice bowl or teacup), Aizome (Handkerchief or bandana), Transportation cost in the schedule, lunch
* Excluded: Transportation cost to the meeting place (JR Naruto Station), Shipping fee (about 5,000 yen), Guide Fee*
* An optional Interpretation Service (English) is available for 27,000 JPY per 4 hours (from Mori Toki and till the end of the lunch at "O-toriien")
Weather Conditions
The tour depends on weather conditions
You will be notified on the evening before the day of the tour
Note
* Cancellation Policy : 30 days prior: 10% / 15 days prior: 15% / 7 days prior: 50% / 48 hours prior: 100%  
* Language : Japanese
* Minimum Number of Participants : 2 pax
* Maximum Number of Participants : 4 pax
* Requirements: Age 10 years old or older
* Advance booking on request basis (3 business days in advance)
Facility Information
Facility Name ①: Mori Toki
Website: https://morigama.jp
Address: 24 Irinokata, Otani, Oasa-cho, Naruto, Tokushima
Business hours: Mon-Sat (including public holidays) 08:30 – 17:00, Sun 09:30 – 16:30

Facility Name ②: STUDIO N2
Website: https://www.entwo.com/
Address: 80 Hyugadani, Kokuwajima, Muya-cho, Naruto, Tokushima
Business hours: 11:00 – 18:00
Closing days: Irregular; Open on Sat, Sun, Public holidays and Consecutive holidays

Wi-Fi: Not Available
Credit Card Payment: Available ( VISA、AMEX、MASTER、JCB )
Food Restriction (at O-toriien): Available ( Vegetarian )