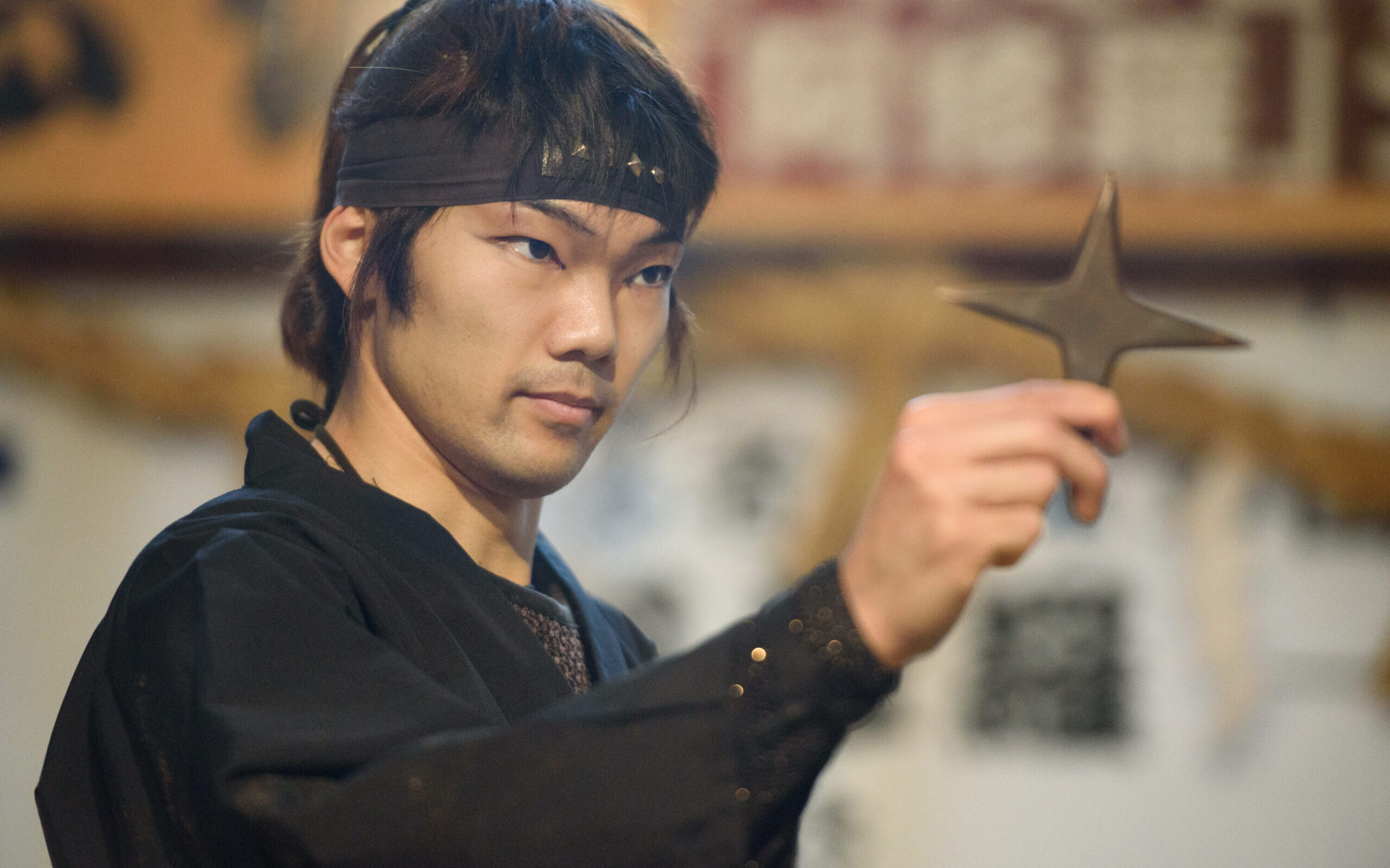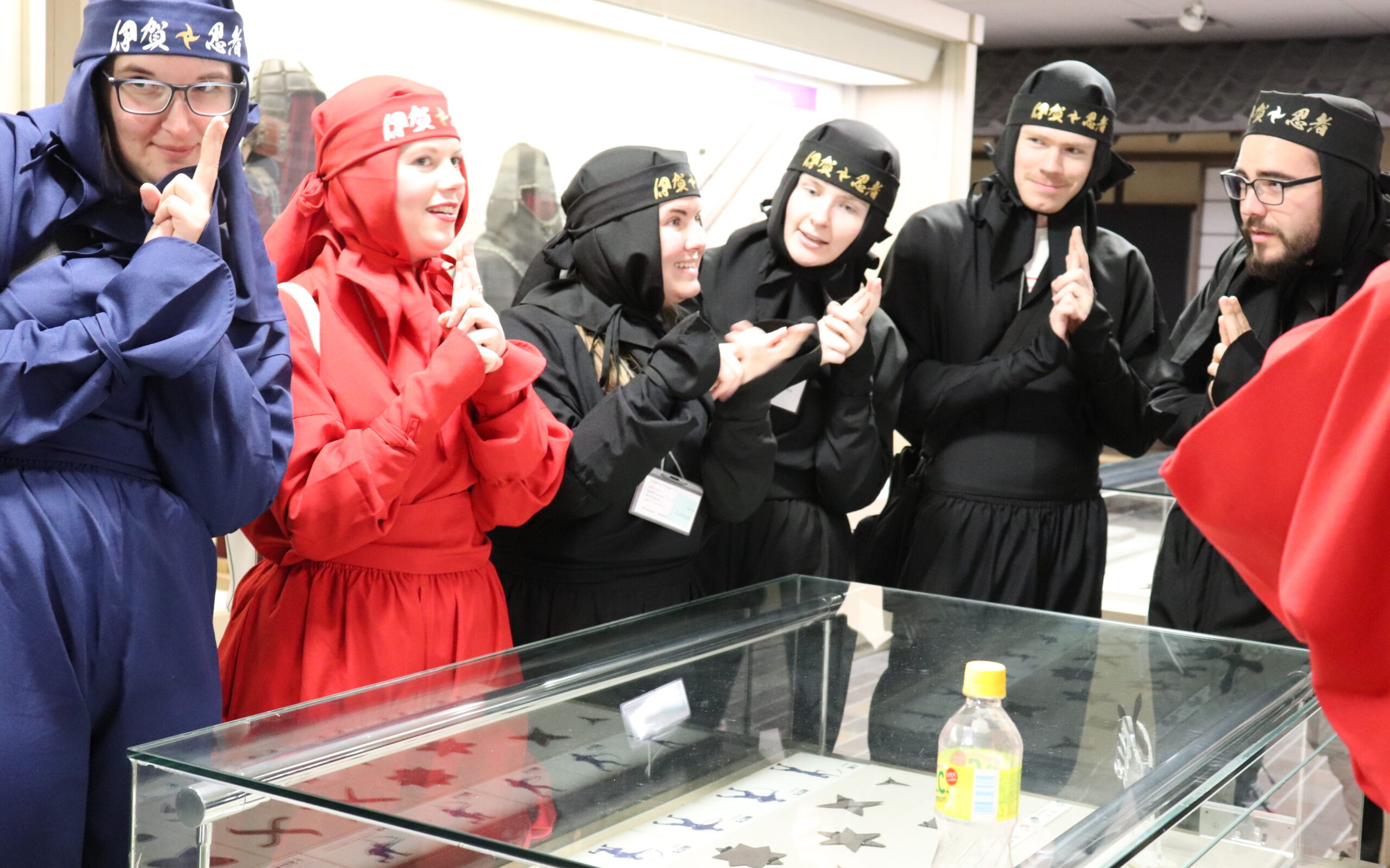 Over View
Ninja costume Experience + Igaryu Ninja Museum package
・First you will transform into a ninja at the Danjiri Kaikan "Ninja Transformation Place" and will wear a full-fledged Hakama style costume that is different from generally rented costumes.
・After changing, move to the only ninja-themed registered museum in Japan "Igaryu Ninja Museum" (about 3 min on foot), learn about ninja culture and history of the ninja house and museum, and experience shuriken throwing. Ninjutsu Demonstration Show is an option as there are no performance days (Separately @ 500).
Highlights
• The staff will dress you in a Hakama-style ninja costume.
• A ninja will teach you how to throw a shuriken.
• You can learn the history and culture of real ninjas.
Itinerary
①10:00AM Danjiri Kaikan admission window gathering
↓
➁10:00 – 10:30 Change into a ninja costume
↓
Move to the Ninja Museum on your own, visit the museum, experience throwing shuriken. Ninjutsu
demonstration show is an option (@500) because there is a day off (check the website)
The costume must be returned by 4:00pm on the day of the event and then everyone will disband.
*Because the guide will not accompany you, after ②. You are free to do whatever you want until
you return the costume.          
* Duration: 3hours(approximate)

★ Meeting/Dismissing Place:
Danjiri Kaikan Admission window
Address: 122-4 Ueno Marunouchi, Iga City
Meeting time: 5 minutes prior
Implementation Period
Nov 1st – March 15th *Excepting Dec 29th – Jan 1st     
Min No. of participants
2 Person(s)
Max No. of Participants
Up to 10 Person(s)
Group support: Unavailable
Participant Conditions
Participation age: 16 years or older 
Height: 155cm ~ 185cm
Price
Per Pax: Adult 8,500 JPY
* Included: experience fee, admission fee, rental fee, souvenir, etc.
* Excluded: Ninjutsu Demonstration show(in the Ninja Museum), personal expenses, etc.
Language Support
Japanese, English
Interpreter guide accompaniment: Not Necessary
Language Supplementation tool: None  
Cancellation Policy
7-2 days before the tour start date:30%
Day before the tour start date:40%
Day of the trip start date before the tour begins:50% 
Day of the trip start date after the tour begins :100%               
Weather Conditions
Departure decision due to weather→ Yes
If yes : Cancellation will occur
Decision time : The evening of the day prior
Things to Note
・Wearing a mask is mandatory to prevent the spread of coronavirus
・If you have a fever (37.5 degrees or higher) on the day, you cannot participate.
Facility Information
Facility Name: Igaryu Ninja Museum      
website:https://www.iganinja.jp/
Address: 117 Marunouchi Ueno, Iga City, Mie Pref. 
Telephone:+81-595-23-0311
Business hours: Mon-Fri 10:00-16:00 (Last reception 15:30), Sat, Sun,
Holidays 10:00-16:30 (Last reception 16:00)
Regular holidays: Dec 29th – Jan 1st
Wi-Fi: Available
Foreign Language pamphlet/Menu: Available
Language support:Japanese, English
Cultural food accommodations: Impossible
Facilities for disabilities: Available
Credit card facilities : Available
Facility Name: Danjiri Kaikan      
website: https://www.igaueno.net/?p=99
Address: 122-4 Ueno Marunouchi, Iga City, Mie Pref.
Telephone: +81-595-24-4440
Business hours: 09:00-17:00           
Regular Holidays: Dec 29th – Jan 1st
Wi-Fi: Available
Foreign Language pamphlet/Menu: Available
Language support: Japanese, English
Cultural food accommodations: Impossible
Facilities for disabilities: Available
Credit card facilities : Available