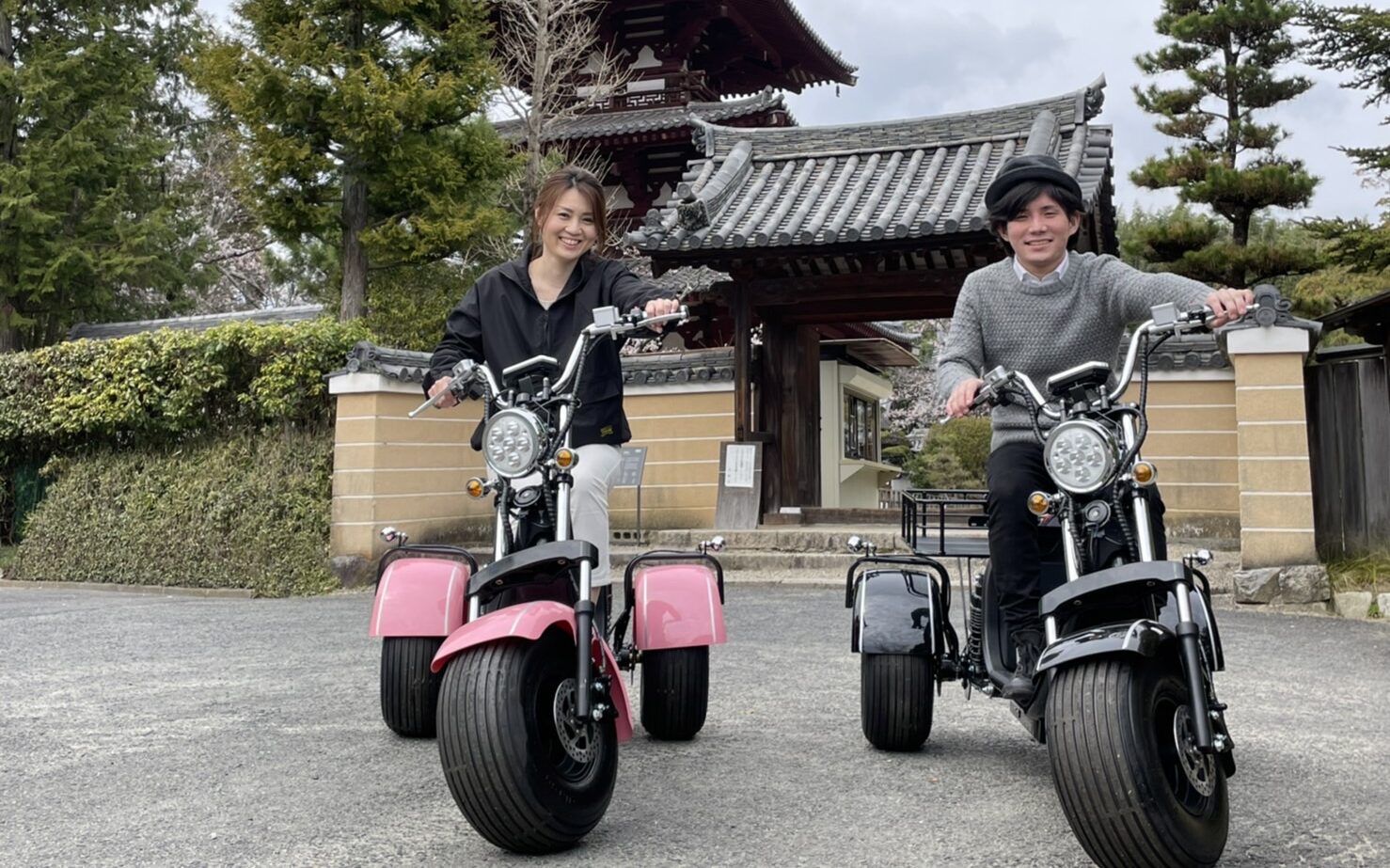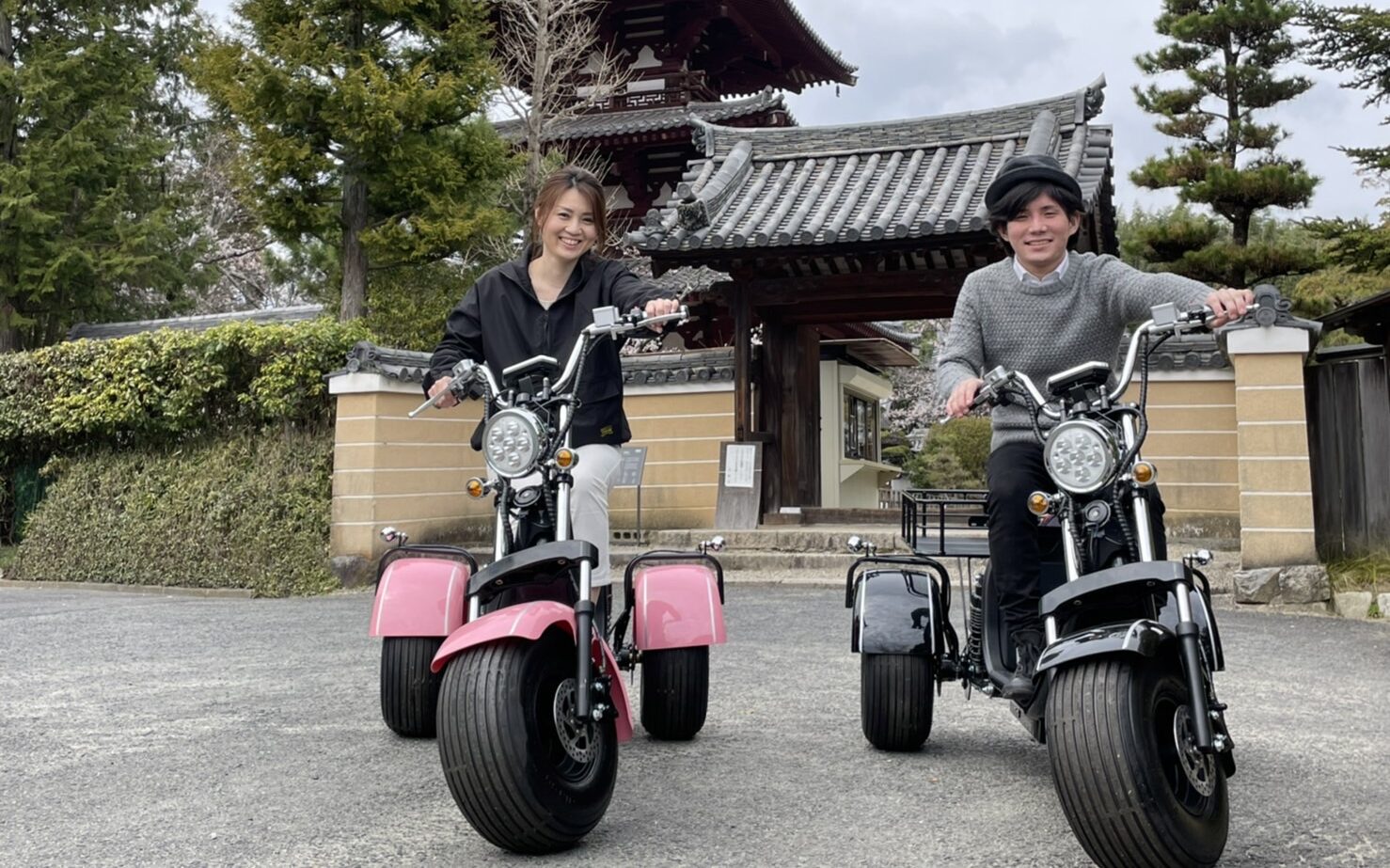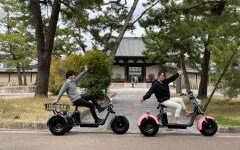 Over View
・Meet at Nara Ikaruga Tourism Waikaru and complete the reception. After that, you will receive operation instructions from the staff and practice using the vehicle.
・After practicing, depart on a tour of the three towers, Horyuji(World Heritage), Hokiji(World Heritage), and Horinji Temples. Guide staff will take photos at each spot. There is free time, so you can visit Hokiji and Hiorinji Temple (optional).
・Return to Nara Ikaruga Tourism Waikaru, hand over of the photo data and end the tour.
Highlights
・Unlike a buggy, the engine is electric so you can enjoy talking with your friends during the tour, without engine noise.
・You can enjoy a driving sensation like no other as the trike slides on the ground with extra-thick tires.
Reccomended points
・Simple operation that speeds up by twisting the throttle without gears. You can enjoy the tour with peace of mind because you will have prior practice and the guide will lead the way.
・Since we will stop at each temple, it is possible to visit Hokiji and Horinji Temples. In addition, staff will take photos and videos. There is no doubt that they will shine when posted on SNS platforms.
Itinerary
①13:00-13:30 
Meet at Nara Ikaruga Tourism Waikaru
Reception, course/operation explanation, practice                                  
↓
➁13:30-15:00
Trike Experience "Horyuji, Hokiji, Horinji" Three Pagoda Tour
Horinji→Hokiji→Horyuji
(Free time for photos and walking at each spot) 
↓
③15:00
Arrive at Nara Ikaruga Tourism Waikaru       
Receive the photo data via airdrop and e-mail, then end the tour
* Duration: 2 hours

★ Meeting/Dismissing Place:
Nara Ikaruga Tourism Waikaru
Address: 1-6-30 Horyuji-Higashi, Ikaruga-cho, Ikoma-gun, Nara Pref.
Implementation Period
Year-round (Except every Wednesday, year end and new year holidays) 
Min No. of participants
1 Person
Max No. of Participants
Up to 3 Person(s)
Group tours: Not possible
Participant Conditions
Participation age: 18 years and older( must hold a valid international driver's license)
Price
Per pax: Adult 4,500JPY
* Included: Experience fee(guide fee, photography, fuel fee, insurance fee, Consumption tax)
* Excluded: Admission fee (for visitors), transportation to and from the meeting place

Language Support
Japanese, English
Interpreter guide accompaniment: Not Necessary
Language Supplementation tool: Available (Automatic Translator) 
Cancellation Policy
3 Days before the tour date: 30%
The day before the tour date :50%
The day of the tour date: 100% 
Weather Conditions
Departure decision due to weather→YES
Decision time: The evening of the day prior
Things to Note
•An international driver's license permit is required to drive
•The trike is single seater
•On the day if you have a fever of 37.5 degrees or higher, you may not participate.
•Rain or Shine (raincoat and towel: free rental)
Facility Information
Facility name: Nara Ikaruga Tourism Waikaru   
URL:http://waikaru.com/
Address: 1-6-30 Horyuji-Higashi, Ikaruga-cho, Ikoma-gun, Nara Pref.
Telephone:+81-745-75-8055               
Business hours: 09:00-18:00      
Regular Holiday: Wednesdays
Wi-Fi: Unavailable
Foreign Language pamphlet/Menu: Available
Language support:Japanese, English
Cultural food accommodations: Impossible
Facilities for disabilities: Unavailable
Credit card facilities: Available