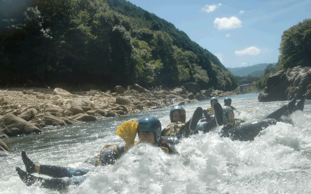 Over View
A must-see for those who want to have an exciting experience in Japan!
It is a rapid river rafting sport that breaks through various waves in a single-seater inflatable.
The tour guide explains how to descend safely and what to do if you flip over, after practice, challenge the rapids! Break through large and small rapids! An exciting experience that cannot be experienced anywhere else awaits. Unlike rafting, the thrill and excitement of dynamically plunging into the waves unique to single-seaters awaits. The guide will accompany you, so rest assured that we will support you if you are uneasy.
Highlights
・Water tubing is the most popular tour! A big adventure on a tube!
・You can't experience the exhilaration after surpassing the big waves elsewhere(Size of the waves differ depending on water volume)
・You will wear a wetsuit, so even if you don't have a swimsuit, wearing underwear is permitted.
Reccomended points
Photos taken during the tour can be downloaded for free via Facebook
The bus stop is right there, so it's easy to get to! 13 minutes from Kyoto Station to Ishiyama Station/ 20 minutes by bus from Ishiyama Station to our company.
Itinerary
①9:20AM Meet at Friendship Adventures
↓
➁9:30 After checking in and changing clothes Move to the starting point
↓
③10:00 – 11:40 Water tubing experience  
↓
④12:00 After finishing, change clothes and finish            
* Duration: 2hours 30minutes
★ Meeting/Dismissing Place
Friendship Adventures
Address: 1215-5 Ishiyama Nangocho,
Otsu City, Shiga Pref. From Ishiyama Stat.,
Take the Keihan Bus bound for O-Ishi
Elementary School and get off at Kawazuiwa
Meeting time: 10 min prior to the tour
A.M. Session meet: 09:20 Conclude: 12:00
P.M Session meet: 13:20 Conclude: 16:00
Implementation Period
All year ・ April – October   
Min No. of participants
3 Person(s)
Max No. of Participants
Up to 10 Person(s)
Not available to groups
Participant Conditions
Participation age from 16 to 55 years old 
Height Over 150cm tall 
Weight Up to 90kg
Price
Per Pax: Adults 6,000 JPY, Children 5,800 JPY (16-18 years old)
* Included: Equipment set, experience fee, guide fee, insurance fee etc.
* Excluded: swimwear, towels, personal expenses etc.
Language Support
Japanese, English
Interpreter guide accompaniment: Not Necessary
Language Supplementation tool: None  
Cancellation Policy
7-2 days before the trip start date: 20%
The day before the trip start date: 50%
After the departure time on the day: 100%                
Weather Conditions
Departure decision due to weather→Yes
If yes: Cancellation occurs
Decision time: Evening of the previous day
Things to Note
・Tubing requires physical strength. Not recommended for those who cannot handle the intensity.
If there is a water released from a gate further upstream, we will go up one level and wait for the change to finish before proceeding. If there is a rare prolonged change in water level, the activity may be canceled on the day. Please be aware of this before applying. (for rainy season or after a typhoon etc.)
・After booking, please inform us of your accommodation. We will provide transportation information to our office from your accommodation. Participants must be in good physical and mental health.
For safety reasons, those who cannot understand Japanese, or English cannot participate due to detailed explanations about things such as rapids.
Facility Information
Facility Name: Friendship Adventures
Website: https://www.friendship-adventures.com/
Address: 1215-5 Ishiyama Nangocho, Otsu City, Shiga Prefecture
Telephone: +81 77-533-5112              
Enquiry Business Hours 08:00-19:00  
Regular Holiday: In season no holidays
Wi-Fi: Available 
Foreign Language pamphlet/Menu: Available
Language support: Japanese, English 
Credit Card Facilities: Available