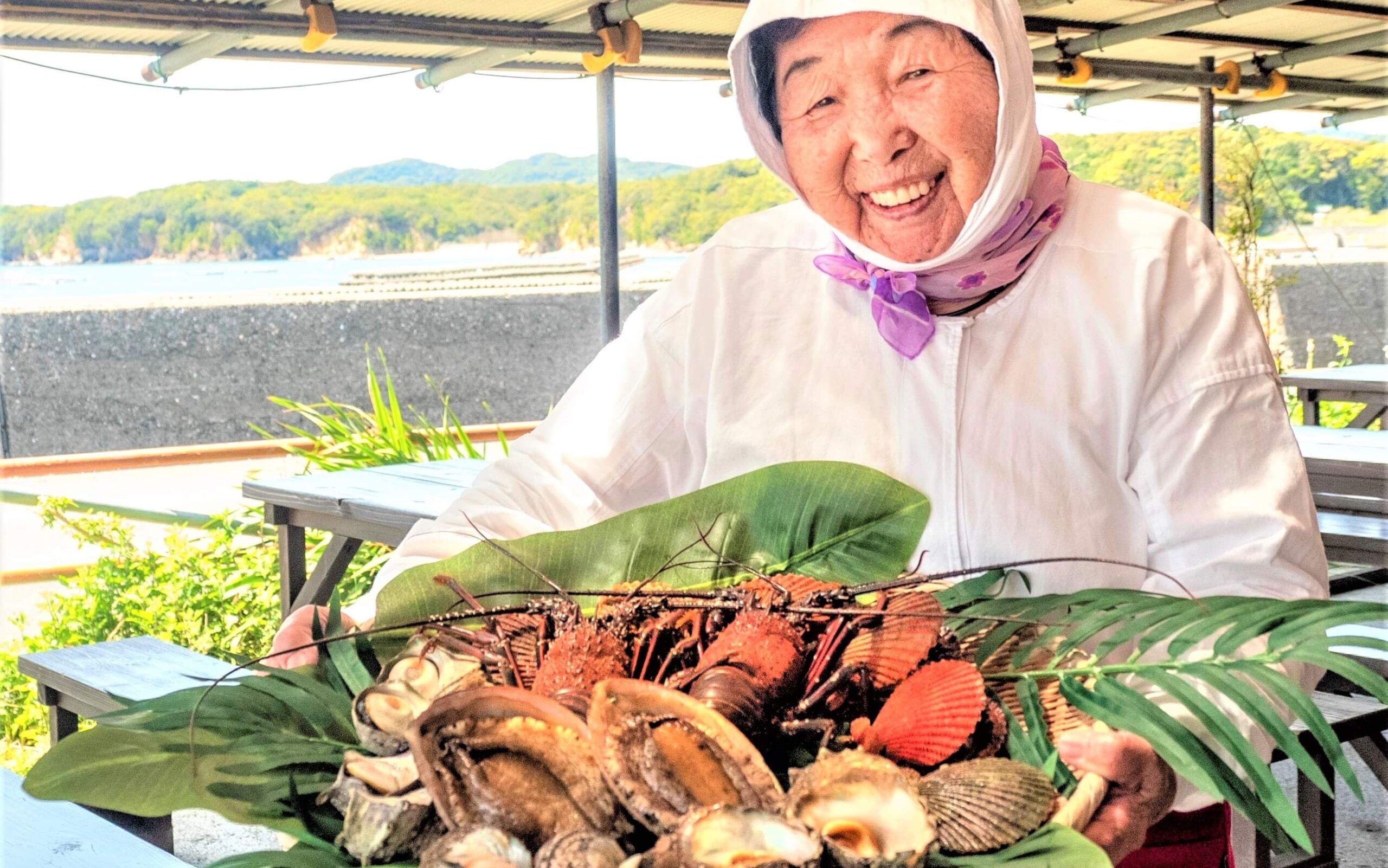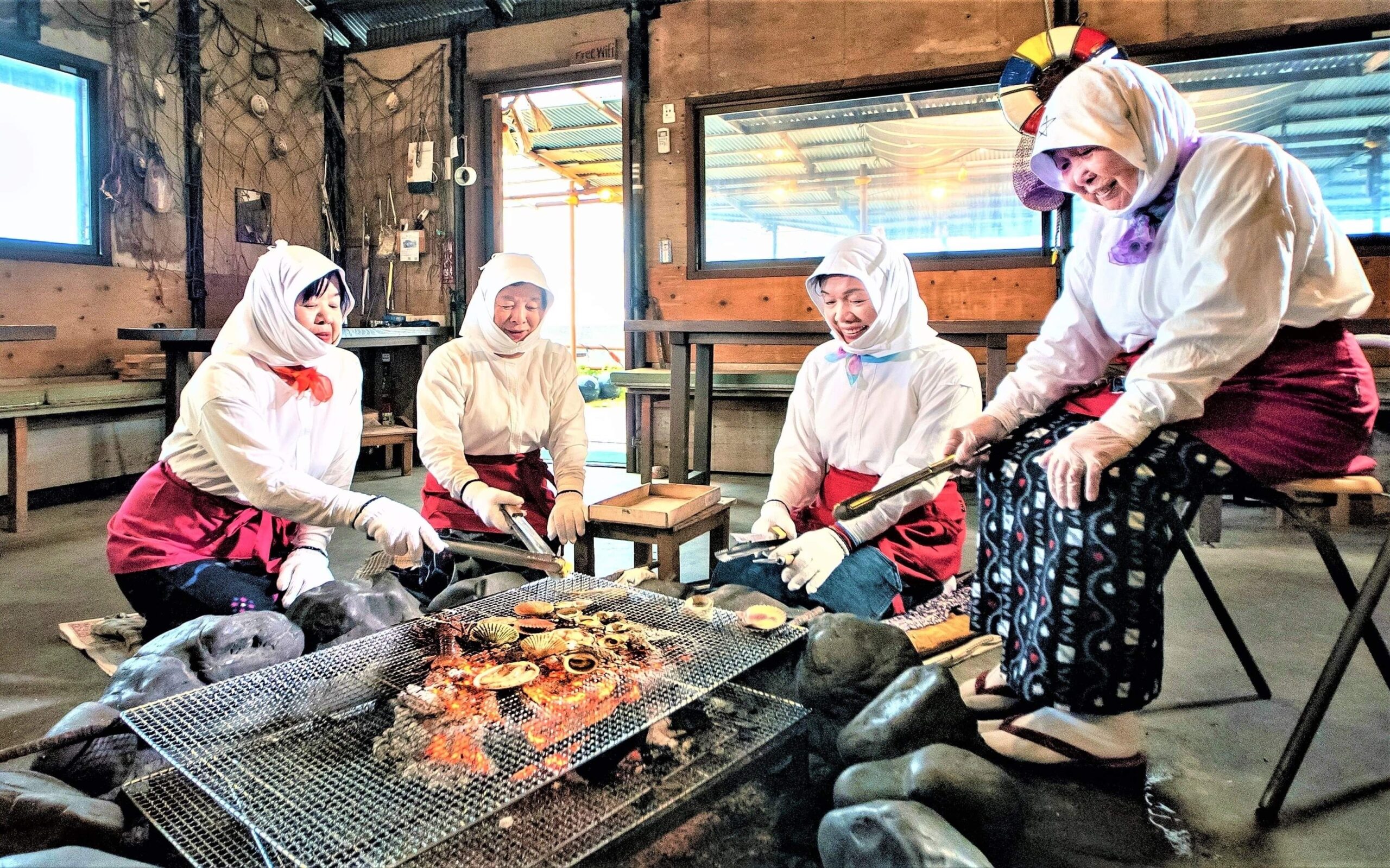 Over View
Ama are female fisherman who make a living by catching abalone, turban shells, seaweed etc., by free-diving. Ama prepare for fishing by building a fire to warm their bodies after a long day of fishing and rest their tired bodies. You can dine on fresh seafood while listening to the stories of Ama divers in a recreation of an Ama hut.
Highlights
・Enjoy fresh seafood grilled by Ama divers and served freshly prepared around a traditional Japanese cooking fire in the Ama hut.
・You can converse with real Ama divers and hear about free-dive fishing and their lives.
Reccomended points
・You can enjoy your meal while listening to the stories of active Ama divers.
・A shuttle bus "Ama bus" from Toba station to "Ama Hut Hachiman Kamado" is also available. This service can be utilized from just one person. (Advanced reservation is required for the shuttle bus)
Itinerary
Please choose a timeframe from the flowing three:
①11:45-13:00 ②13:15-14:30 ③14:45-16:00

*A program example:
①11:45AM 
Arrive at Hachiman Kamado Asari beach
Fresh seafood cooked by hand by Ama divers will be served.
↓
➁12:30PM 
After finishing the meal, the Ama divers will give a talk about Ama diving and the life of Ama divers.  
↓
③12:45 
We will dance the traditional "Osatsu Ondo" with the divers!
↓
④13:00 
Program will end.      
* Duration: 1hour 15minutes

★ Meeting/Dismissing Place:
Hachiman Kamado Asari Beach
Address: Osatsucho, Toba City, Mie Pref.
Meeting time: 5 min prior to experience
Implementation Period
Year-round (Excluding regular holidays)   
Min No. of participants
1 or more Person(s)
Max No. of Participants
Up to 100 people
Group tours: Possible
Participant Conditions
Age restriction: None in particular
Price
Per Pax:
Adult 4,700 JPY
(Menu Includes: 3 live turban shells, 3 leopard clams, 1 large clam, seasonal dried fish, simmered Hijiki(seaweed), small plate of spiny lobster soup, rice and pickled vegetables)
Children 2,600 JPY
(Menu includes: 1 turban shell, 1 razor clam, 1 Manila clam, 1 piece of dried fish, boiled Hijiki (seaweed), spiny lobster soup and rice)
* Included: meel fee
* Excluded: Transportation expenses to and from the meeting place, guide fee
* Ise lobster and abalone are not included in the menu(Advanced reservations can be made as an option)

Language Support
Japanese
Interpreter guide accompaniment: Necessary
Language Supplementation tool: pocketalk 
Cancellation Policy
14-2 days before the tour start date:20%
Day before the tour start date:50%
Day of the trip start date:100%               
Weather Conditions
Departure decision due to weather→ Yes
*Dependent on Typhoon, Tsunami warning etc.
If yes : Cancellation will occur.
Decision time : Evening before the start date however may be canceled due to issuance of an alarm on the day.
Things to Note
・Depending on the season, the menu will change to include seasonal seafood.
・If you have food allergies, please be sure to let us know in advance.
・As the food is cooked over charcoal fire, ash and sparks may fly, so please wear clothes you don't mind getting dirty.
Facility Information
Facility Name: Ama hut Hachiman Kamado
URL:https://amakoya.com/
Address: 819 Osatsucho, Toba City, Mie pref.
Telephone: +81-599-33-1023                 
Business hours:10:00-17:00 【By appointment only】 
Closed:Jan 1st – Jan 5th 、Aug 13th – Aug 15th 、Dec 30th – Dec 31st 、Public holidays
Wi-Fi:Available
Foreign Language pamphlet/Menu: Available
Language support:Japanese
Cultural food accommodations: Upon consultation 
Facilities for disabilities: Available 
Credit card facilities: Available(VISA、Master、JCB、AMEX、Diners)
Maximum No. of people that can be accommodated: 100 people when seated, charter available (20 to 50 people, 50 or more people)
A parking lot with capacity for 4 large buses and 20 passenger cars is available.
*The information on this tariff is based on information correct as of October 2022 and is subject to change without notice