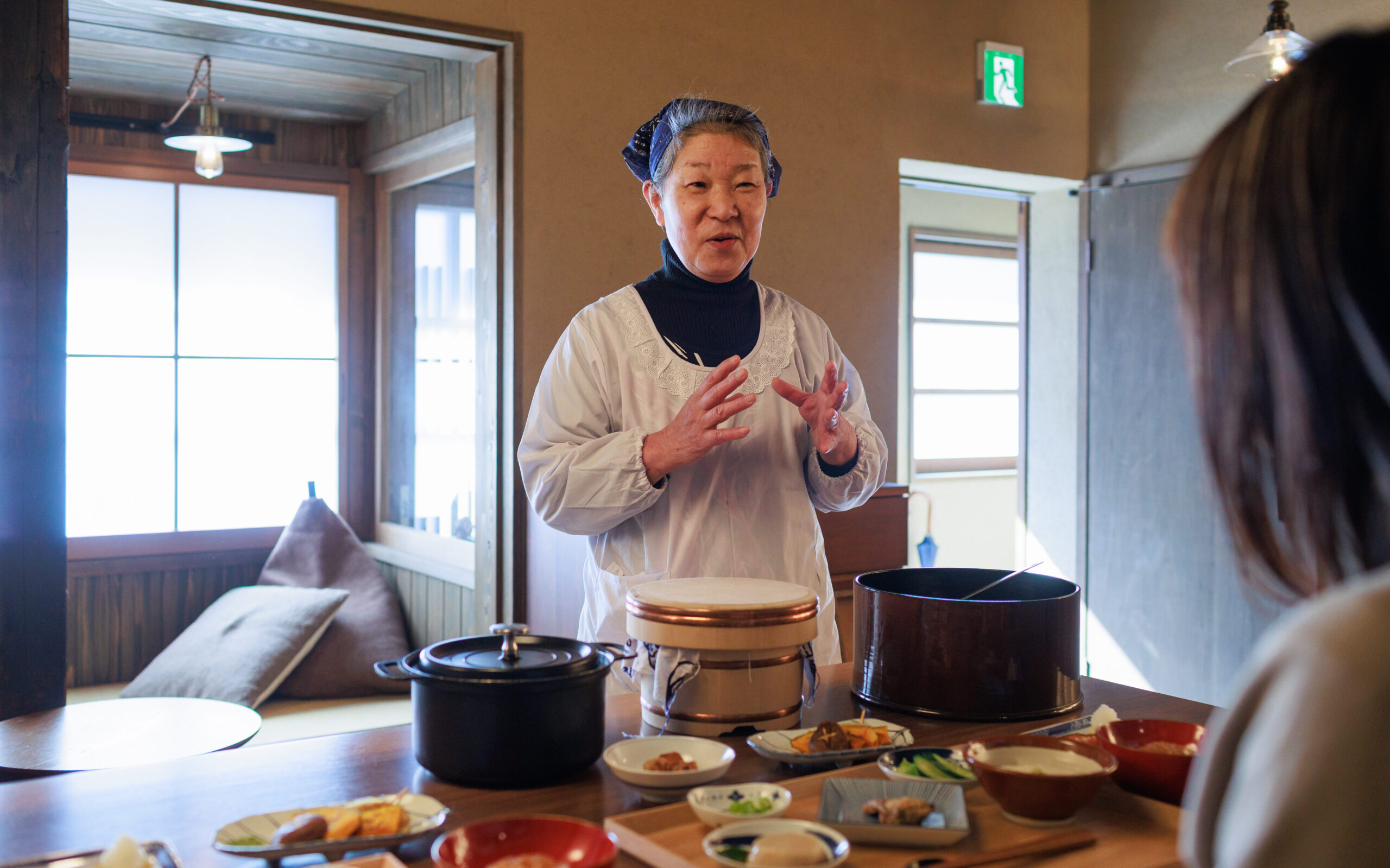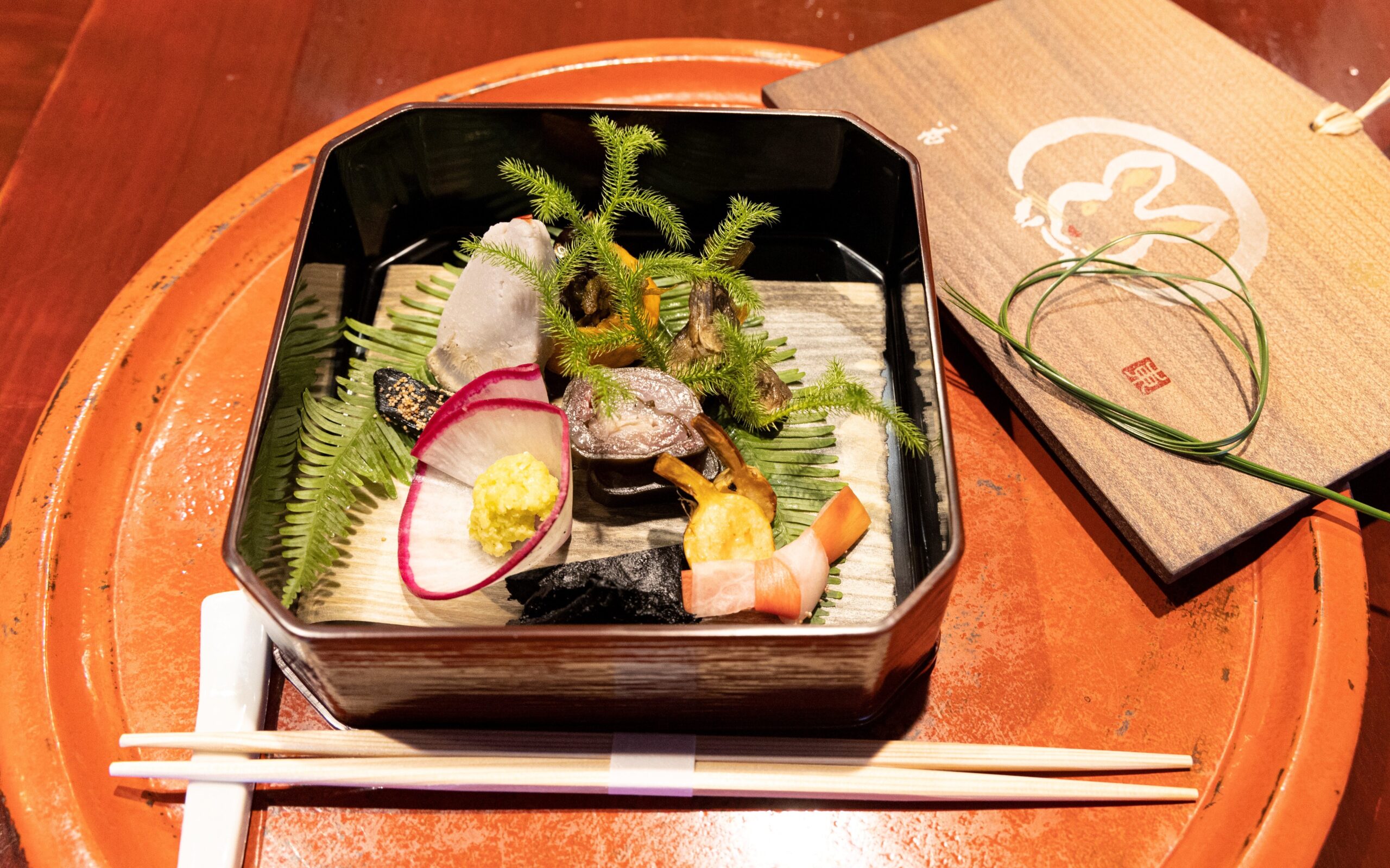 Over View
Embark on a culinary journey and explore the rich history of Kyoto's "Miketsukuni," the land of bountiful regional ingredients that have been presented to the imperial court since the Asuka and Nara periods 1400 years ago.
Start your journey in the charming city of Obama in Fukui prefecture, known for providing Kyoto with a variety of delicious seafood. Travel along the famous "Saba Kaido" road, which was once used to transport mackerel to Kyoto, and stay at a traditional Japanese inn in the historic post town of Kumagawa-juku. Relax and immerse yourself in the nostalgia of the past while enjoying the local culture, including the iconic lacquer chopsticks that you can make yourself. Or why not try out a delicious Italian dish made from the ingredients of Wakasa, all while using chopsticks?
Next, head south along the Saba Kaido to Kyoto, a city where exquisite gourmet ingredients from all over Japan are delivered. Experience the elegant charm of Kyoto's famous traditional restaurants and indulge in the finest Japanese cuisine. Visit the renowned Michelin two-starred restaurant "Nakahigashi" to savor the carefully selected ingredients and learn the meaning behind the dishes.
If you have extra time, extend your journey to a serene lakeside resort in Shiga prefecture, and revel in the tranquil beauty of the Japanese countryside. Enjoy the perfect balance of history, culture, and culinary delights on this unforgettable journey through the heart of Japan.
Highlights
■ Stay in a spacious traditional Japanese house in a post town, with exclusive use of the entire property.
■ Enjoy a traditional dinner called "Kumagawa Hospitality Meal" served by a local who will come to your room.
■ Indulge in authentic Japanese cuisine featuring the freshest ingredients at a Michelin-starred restaurant in Kyoto.
Reccomended points
■ One of the most popular dining options in Wakasa, one of the three Miketsukuni, is Italian cuisine where you can enjoy the local ingredients of Wakasa with your own handcrafted lacquer chopsticks.
■ At the Michelin two-starred restaurant Naka Higashi, you can enjoy the chef's delectable cuisine at the counter while listening to the owner, Mr. Nakahigashi, share enjoyable and informative stories about the ingredients.
Itinerary
Day 1
■ 8:30AM Depart from Kyoto Station (For those departing from Tokyo, please arrive in Kyoto the day before)
↓
■ 11:00AM Cafe break and visit to GOSHOEN, a museum of cultural artifacts
↓
■ 12:30AM Arrival at La Verita, a handmade cheese factory in Wakasa
↓
■ 2:30PM Visit to the Wakasa Food Culture Museum, including a 30-minute exhibit tour and a workshop to make traditional lacquer chopsticks on the second floor (30-minute ride in a hired car)
↓
■ 5:30PM Return to Yao Kumagawa and check in to your lodging, followed by a "Kumagawa Hospitality Dinner"
Day 2
■ 9:00AM Stroll around Kumagawa-juku, an old post town
↓
■ 10:30AM Learn how to cook and enjoy takikomi gohan (rice dish) using a traditional stove
↓
■ 1:00PM Depart from Yao Kumagawa and head south on the Saba Kaido road towards Kyoto (approx. 90-minute ride in a hired car)
↓
■ 2:30PM Stroll around Shimogamo Shrine and the starting point of the Saba Kaido road
↓
■ 4:00PM Buy souvenirs and have a cafe break at Nishiki Market
↓
■ 6:00PM Dinner at Naka Higashi counter and then head to Kyoto Station

Implementation Period
All year round 
Min No. of participants
2 Person(s)
Max No. of Participants
Maximum 5 Person(s)
Group tours: Not Available
Participant Conditions
Must be of legal drinking age (no minors allowed).
Price
Per person: Adults and children are the same price, starting from 45,600 yen
*Included in the price: Overnight stay at Yao Kumagawa with dinner, lunch at La Verita, Kamado Gohan experience.
*Not included in the price: Naka Higashi meal expenses, transportation fees such as rental cars, experience fees at Wakasa workshop, GOSHOEN cafe expenses (additional drinks, etc.).
Recommended options
■ In the case of changing to accommodations at Matsunaga Rokkan Fujiya:
A lodging with 5 rooms located in the mountains next to the national treasure Myōtsū-ji temple.
Guests can relax by harvesting herbs in the farm or enjoying the garden and waterfall views from their rooms.
Guests can also participate in early morning meditation experiences at the adjacent national treasure Myōtsū-ji temple.
The price for one adult per night with two meals is 37,500 yen.
■ In the case of changing to accommodations at the Biwako lakeside Auberge Hotel in Shiga:
A lakeside Auberge with 15 rooms offering a view of Lake Biwa.
The hotel offers fusion cuisine incorporating the area's rooted fermentation culture as its theme.
The price for one adult per night with two meals in a twin room is 38,900 yen.
Language Support
Japanese
Interpreter guide accompaniment: Not Necessary
Language Supplementation tool: None
Cancellation Policy
14 to 5 days before the start of the trip: 20% of the total fee
4 days before the start of the trip to the day before: 50% of the total fee
On the day of the start of the trip: 100% of the total fee           
Things to Note
*La Verita
・ During busy periods such as the end of the year and major holidays, there may be time restrictions.
・ Children's menus are available with prior notice.
・ If you have any requests or concerns about ingredients such as allergies or dislikes, please be sure to mention them when making a reservation.

*Yaokumagawa
・ Our experiences are primarily offered in conjunction with accommodation. If you wish to participate in an experience only, please consult with us well in advance.
・ Smoking, including the use of electronic cigarettes, is prohibited in all areas of the facility.
・ While it is unlikely that clothing will become soiled during the Kamado cooking experience, there is a possibility that smoke odor may linger. If you are concerned, please bring a change of clothes.
Facility Information
Yaokumagawa
■ URL: https://yao-kumagawa.com/
■ Location: 30-6-1 Kumagawa, Wakasa-cho, Mikatakaminaka-gun, Fukui Prefecture
■ Business hours: 9:00-17:00 (closed on Sundays and holidays) * Reception hours
■ Fixed holiday: None
■ Telephone: 0770-62-1777
■ WiFi: Available
■ Foreign language pamphlets/menus: Available
■ Food culture support: Available
■ Barrier-free: Not available
■ Credit card support: Available (VISA, JCB, AMEX)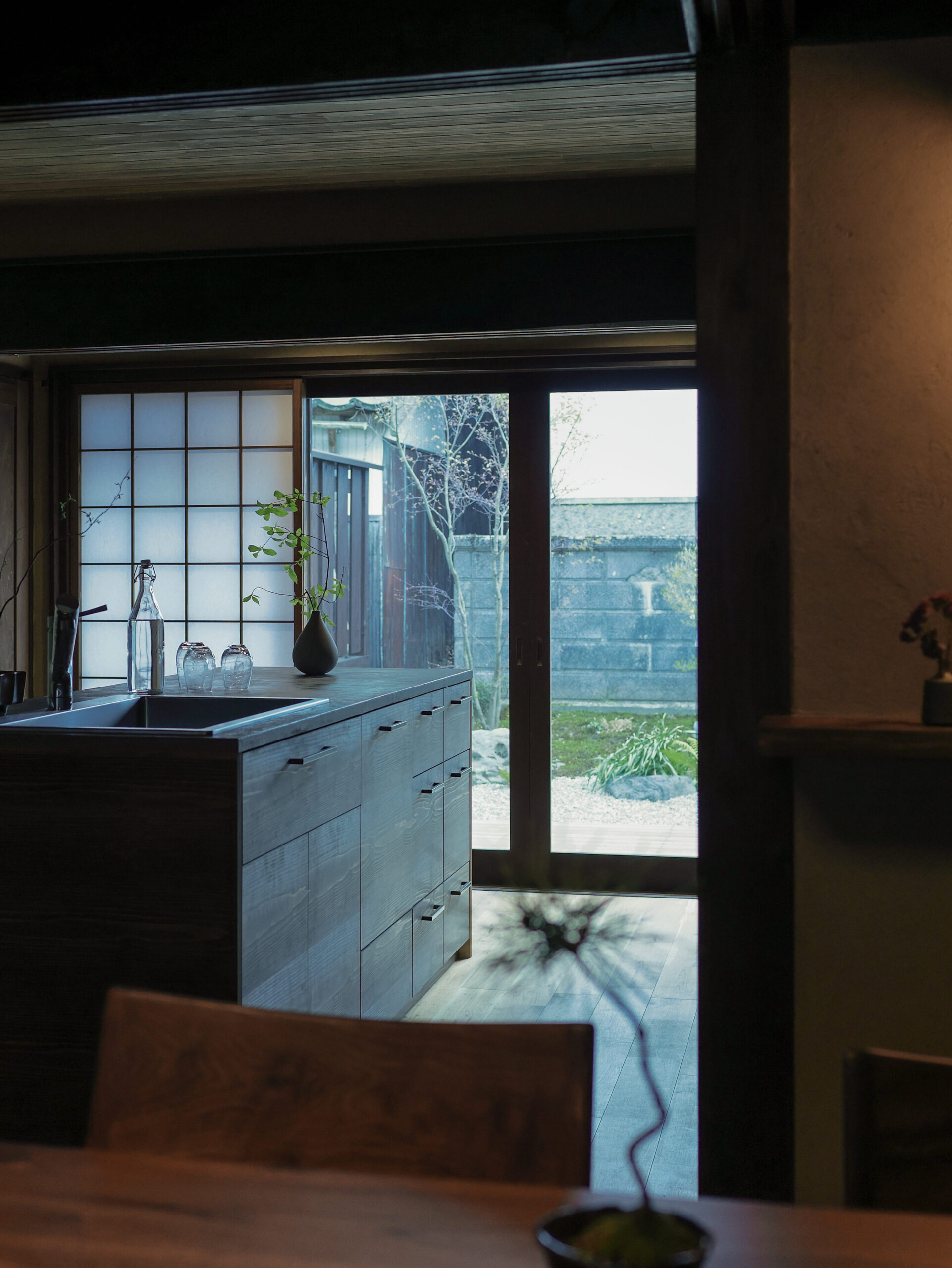 Are you looking for a peaceful escape that takes you back in time? Look no further than Kumagawa-juku in Fukui prefecture, where you can experience a slice of history with all the modern comforts you need.
This town, established in 1589 during the Tensho era, is home to the charming and cozy "Yao Kumagawa" inn. The inn is housed in a beautifully preserved traditional private house, with a modern and attractive interior that features comfortable bathrooms and bedrooms. You can relax in style and feel the babbling of the stream in Kumagawa-juku.
Whether you are traveling solo or in a group, the inn has four different types of guest rooms to choose from, each equipped with multiple rooms for your convenience. You can choose from rooms that utilize the storehouses or rooms with a view of the stone garden, among others.
And when it comes to dining, you're in for a real treat! The "Kumagawa Hospitality Meal" features a delectable dinner made with plenty of locally sourced ingredients. You'll get to taste the local flavors of the region, cooked to perfection by the locals of Kumagawa, who will deliver your meal right to your room.
In addition to enjoying the peaceful atmosphere of Kumagawa-juku, you can also try your hand at the kamado cooking experience. You'll learn how to cook rice and miso soup using traditional methods, and the result is sure to be delicious. If you're feeling adventurous, you can also sign up for optional activities like Satoyama Trail Tours and stream climbing tours.
Miketsukuni Museum
■ URL: http://www1.city.obama.fukui.jp/obm/mermaid/index.php
■ Location: 3-4-4 Kawasaki, Obama City, Fukui Prefecture
■ Opening hours: 9:00-18:00 (March 1 to October 31), 9:00-17:00 (November 1 to end of February)
■ Fixed holidays: Wednesdays (open on public holidays), and from December 28 to January 5
■ Phone number: 0770-53-1034
■ WiFi: Not available
■ Foreign language pamphlets/menus: Available
■ Food culture support: Not available
■ Barrier-free: Not available
■ Credit card support: Available (VISA, JCB, AMEX)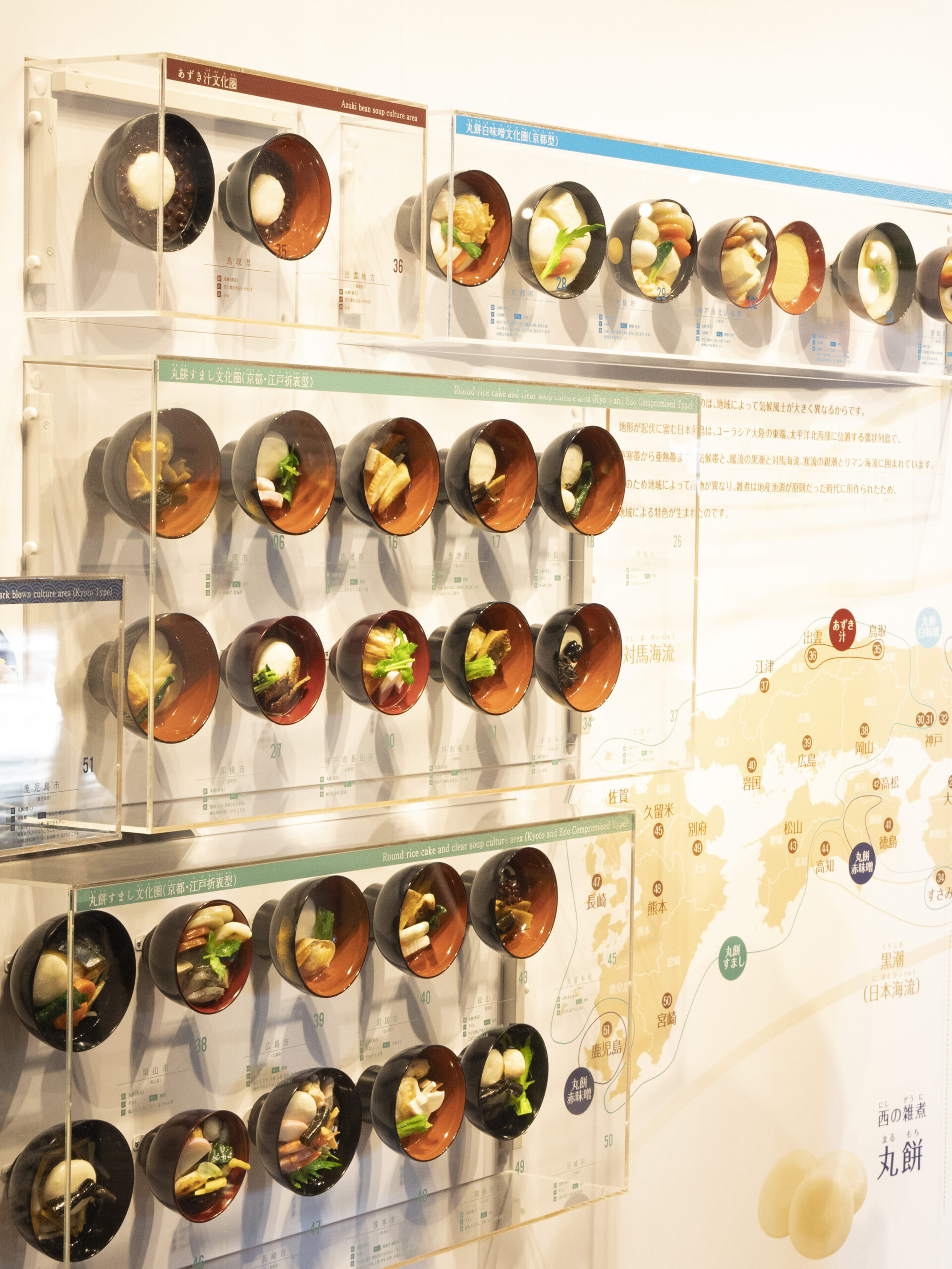 Discover the culinary world of Wakasa Obama at the Miketsukuni Museum! Located in the heart of Obama City, this museum offers a unique and exciting opportunity to learn about the rich history and culture of Wakasa's cuisine.
Explore the many exhibits, including the "World Beloved Sushi" booth, where you can discover the roots of sushi and the secrets of Japanese cuisine. You can also experience traditional crafts at the Wakasa Workshop, where you can make your own Wakasa lacquer chopsticks and take them home as a souvenir.
The museum also features a variety of recreated dishes, allowing visitors to experience the rich culinary traditions of Wakasa firsthand. Visitors can also learn about various themes, such as the traditional events, the food of Wakasa/Obama throughout the year, and the UNESCO Intangible Cultural Heritage of "Washoku (Traditional Japanese food)."
After your visit, enjoy a delicious meal using the chopsticks you made at the museum. Don't miss this opportunity to immerse yourself in the delicious world of Wakasa cuisine!
Goshoen
■URL: https://goshoen1815.com/
■Location: 17-4-1 Kita-Shioya, Obama City, Fukui Prefecture
■Business hours: 10:00-17:00
■Fixed holiday: Wednesday, Thursday
■Phone number: 0770-64-5403
■ WiFi: Available
■ Foreign language pamphlets/menus: Available
■ Food culture support: Not available
■ Barrier-free: Not available
■ Credit card support: Available (VISA, JCB, AMEX)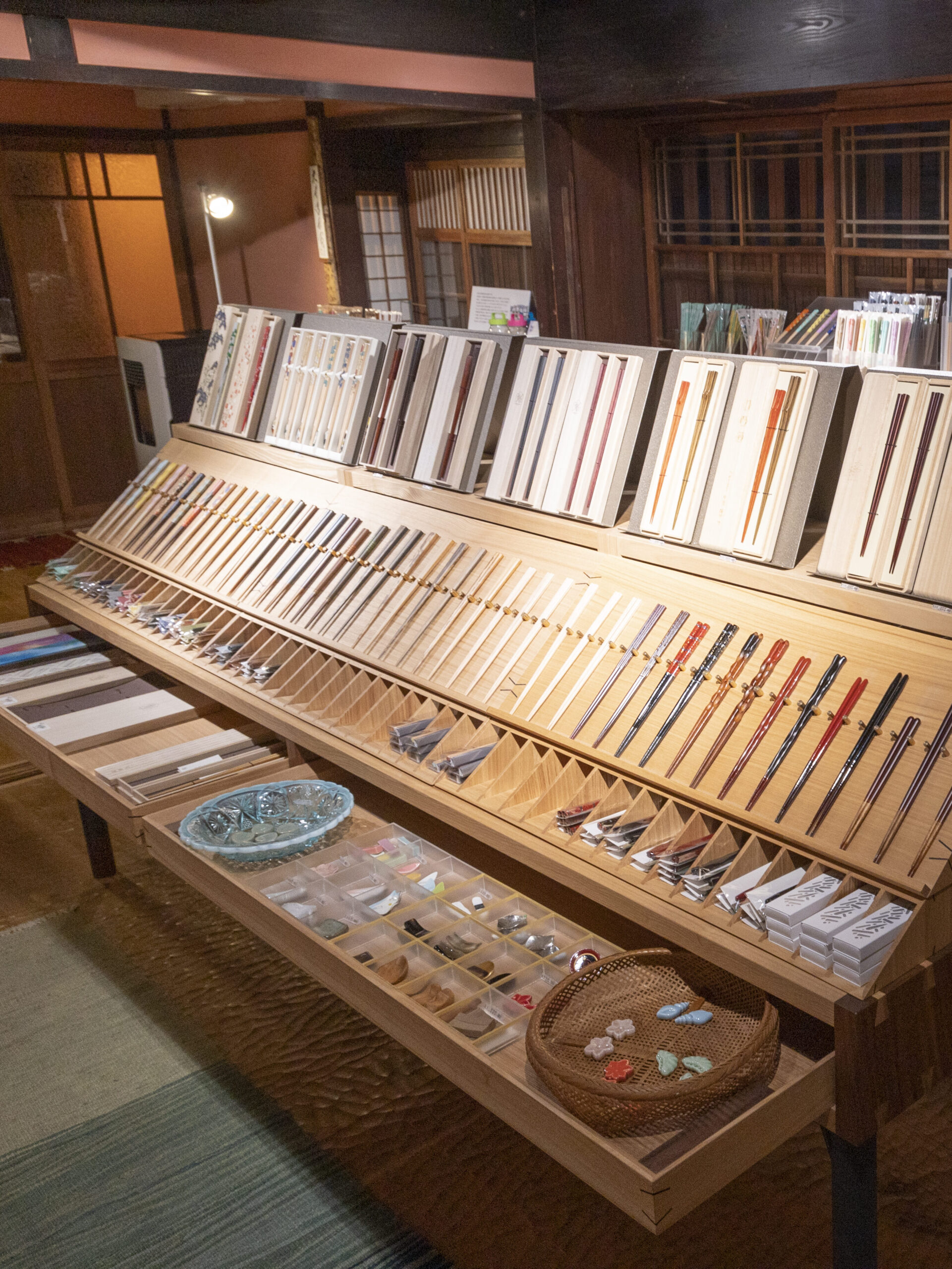 Welcome to "Goshoen" in Obama City, a prestigious building that is a must-visit destination during your trip to Fukui Prefecture. Built in 1815 by the fifth generation of the "Furukawa-ya" merchant of the Kitamae ships, this building is a tangible cultural asset and a true gem of Fukui Prefecture.
Restored by the renowned chopstick maker "Hashikura Matsukan," the building retains its original atmosphere and charm, offering a unique experience that takes you back in time. The building features a stunning roof that extends out to fully appreciate the pine tree in the garden, as well as a room on the second floor designed for viewing the moon, with attention given to entertaining the lord of Obama domain.
While visiting "Goshoen," don't miss the opportunity to explore its various attractions. Enjoy a cup of coffee in the attractive coffee shop or browse through the small library. Visit the store selling Wakasa lacquerware and colorful chopsticks, perfect for souvenirs and gifts for your loved ones.
The gallery, renovated from the warehouse, offers fascinating exhibits about the Kitamae ships, which are indispensable to understand the history of Obama. You can also see exhibits of Wakasa lacquerware, showcasing the region's rich cultural heritage.
With free admission to all facilities, except for cafe drinks, "Goshoen" is a perfect place to take a break and stop by during your trip to Obama. Come and immerse yourself in the rich cultural history and charm of Fukui Prefecture.
La Verita
■ URL: http://www.laverita.jp/
■ Location: 35-1 Obama Shio Gamori, Obama City, Fukui Prefecture
■ Business hours: Lunch 11:30 AM – 2:00 PM, Dinner 6:00 PM onwards
■ Fixed holidays: Irregular
■ Phone: 0770-64-5778
■ WiFi: Not available
■ Foreign language pamphlets/menus: Not available
■ Food culture support: Available
■ Barrier-free: Not available
■ Credit card support: Available (VISA, JCB, AMEX)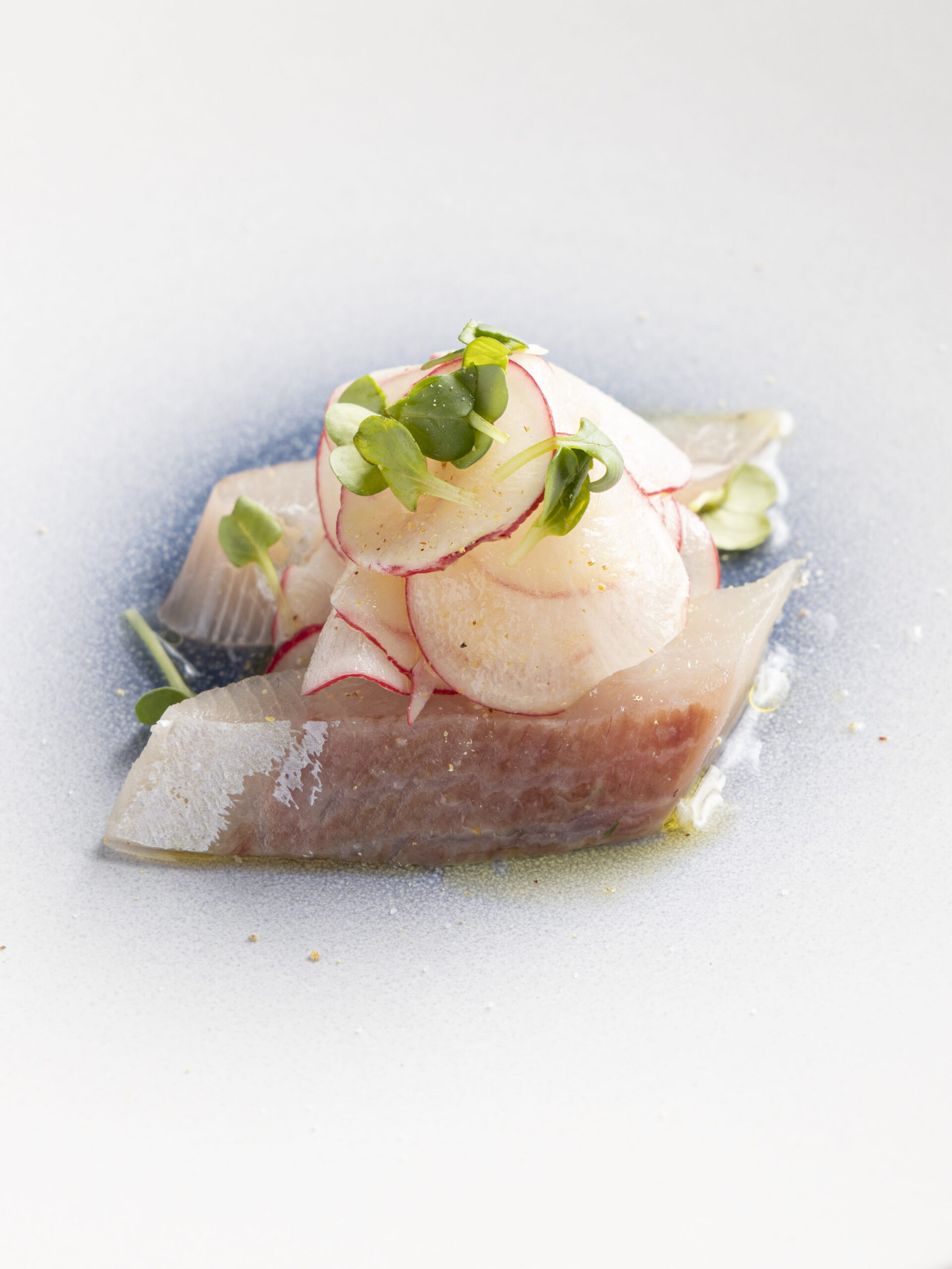 If you want to enjoy the fresh fish from Wakasa, one of the "Miketsukuni," you shouldn't limit yourself to only Japanese cuisine. A must-visit is the Italian restaurant La Verita that even makes cheese using milk from the dairy farmers of Wakasa.
Located along the seaside, not far from the center of Obama City, the restaurant has a cheese factory on site, where freshly made sweet-smelling fresh cheese is served with ingredients and drinks that pair well with cheese. The owner, Mr. Sugizaki, is a chef who has trained in Italy and other places, and is committed to using locally sourced ingredients to revitalize the local dairy industry. It is a renowned restaurant where you can fully enjoy the ingredients of Wakasa. Since they only offer course meals, there is no menu at the restaurant, and everything is prepared to your preference. In addition to forks and knives, Wakasa-lacquered chopsticks are also provided, which allows you to experience the unique cultural blend of Wakasa Obama and Italy.
Nakahigashi
■URL:https://www.soujiki-nakahigashi.co.jp/
■ Location: 32-3 Jodoji Ishibashi-cho, Sakyo-ku, Kyoto
■ Business Hours: 12:00 PM – 1:00 PM (Last Order at 1:00 PM), 6:00 PM – 7:00 PM (Last Order at 7:00 PM)
■ Closed on Mondays (and the last Tuesday of the month)
■ Phone: 075-752-3500
■ WiFi: Not available
■ Foreign language pamphlets/menus: Not available
■ Food culture support: Not available
■ Barrier-free: Not available
■ Credit card support: Available (VISA, JCB, AMEX)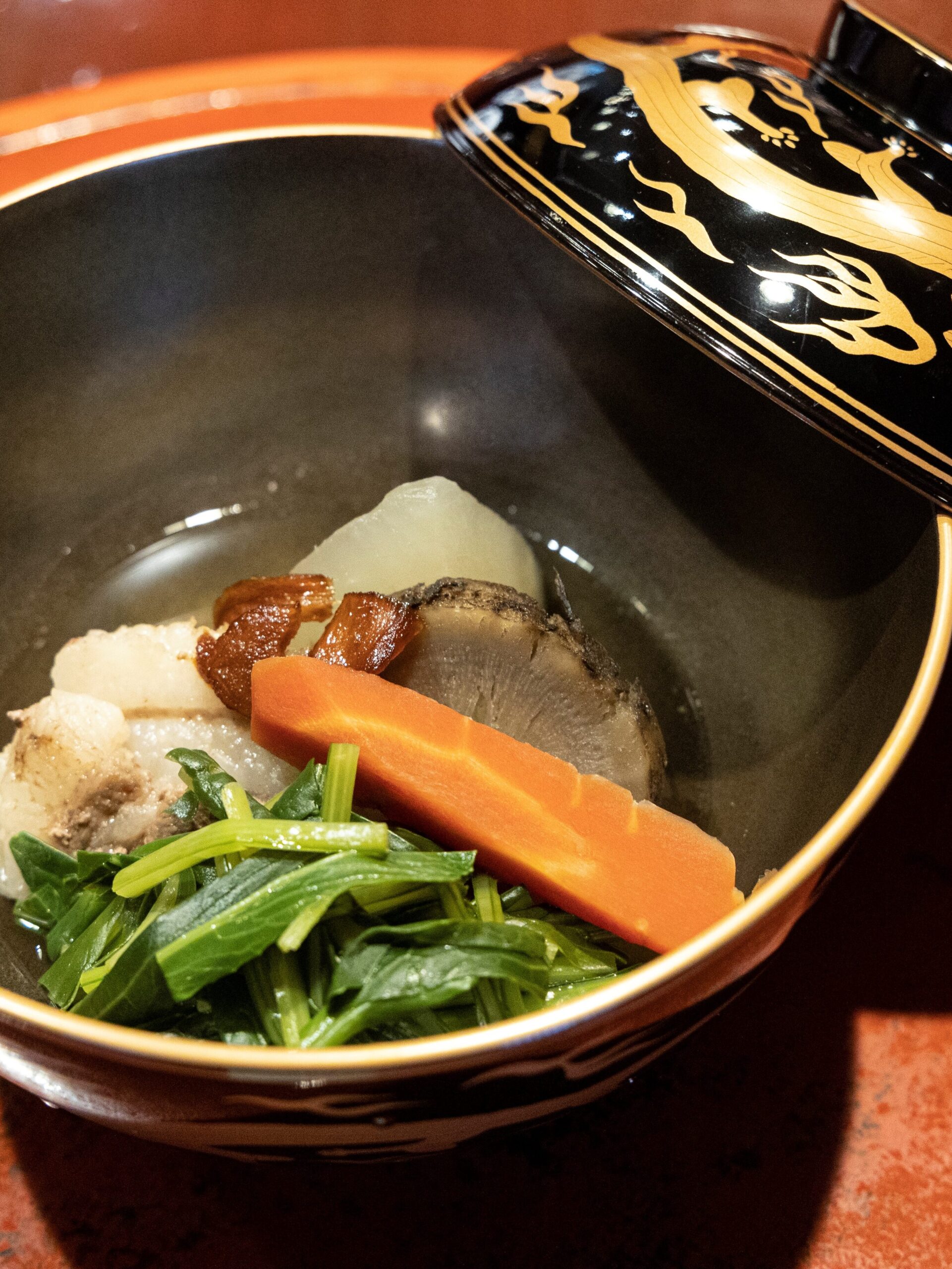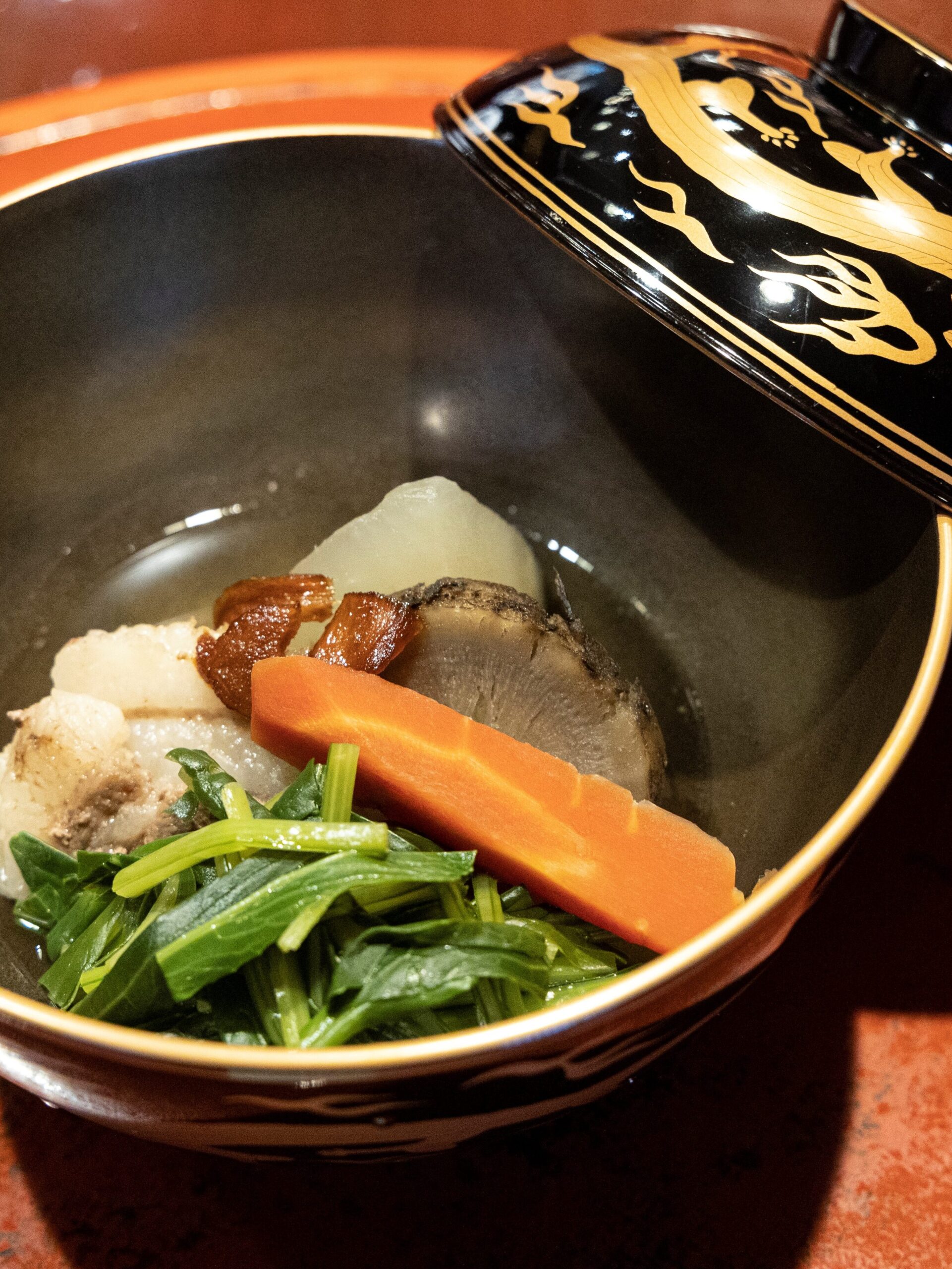 Nestled near the renowned Silver Pavilion (Higashiyama Jisho-ji Temple) is Nakahigashi, a two-story wooden restaurant that serves exquisite Japanese kaiseki cuisine. The restaurant boasts two Michelin stars, and its owner, Mr. Hisao Nakahigashi, has been appointed as a "Wakasa Obama Miketsukuni Ambassador". Mr. Nakahigashi and his team of chefs expertly craft beautifully presented dishes. The owner places a great emphasis on personally harvesting the vegetables used in his cuisine, often venturing into the mountains early in the morning to search for wild vegetables. These carefully selected ingredients, chosen through decades of culinary experience, are featured in the "omakase course" and produce flavors and textures unique to the restaurant. The ingredients sourced from Wakasa, known as "Wakasa Mon", are also utilized during their peak season, as top chefs in Kyoto used to receive ingredients from the Miketsukuni-regions in the past. Mr. Nakahigashi, known for his quick wit, shares tips on how to enjoy the dishes and savor their flavors. Although the restaurant is a popular spot and reservations are hard to come by, it is highly recommended to dine at the counter for the ultimate experience.